Students Navigate the Uncertainty of the Pandemic
Reflections on lessons learned in a time of disruption
By Nancy Budwig and Emily Schuster
The COVID-19 pandemichas upended higher education for almost two years now. How have students navigated their college experiences during this unprecedented time? Students nationwide have reported dramatic and sustained increases in their levels of moderate or severe depression and anxiety since the start of the pandemic, according to data from the National College Student COVID-19 Impact Study of more than 1,600 students, surveyed between November 2020 and May 2021 by Columbia University's Global Psychiatric Epidemiology Group and the Association of American Colleges and Universities. Despite these difficulties, however, nearly 60 percent of student respondents reported feeling hopeful about their futures.
Liberal Education asked five students on different types of campuses to share their experiences during the pandemic. Each story describes significant challenges the students overcame—from balancing education with work and family responsibilities, to managing isolation and academic setbacks, to coping with loss and grief. Yet even as they faced adversity, these remarkable individuals showed resilience and persistence, found silver linings, and creatively reimagined pathways forward—whether deciding to change majors, trying again when academics did not go as well as planned, or forming new relationships with family and friends. They discovered new aspects of their identities as scholars and citizens, and they welcomed seeing the more raw and vulnerable sides of their instructors and peers. All spoke about the important role education played during these times and how their lives became anchored to key mentors and supports on campus and off. The students' voices provide inspiration and hope for faculty, staff, and leaders thinking about campus life in an uncertain future. —Nancy Budwig and Emily Schuster
Becca Folkes-Lallo
Senior, urban studies and media studies double major, education minor
Rhodes College, Memphis, Tennessee (see photo above)

→ Learning and growing: My parents always told me to consider: what do you have to learn from this situation? Time at home during the COVID-19 pandemic gave me space to think. A liberal arts education gives you the ability to pivot your interests and what you are passionate about. I was supposed to go abroad to a service program in Italy, but it got canceled. But then I was able to pursue media studies and film studies, and I changed my major, which would not have happened if I had gone abroad. Last year was really hard for me, but I'm learning and growing. I think about who I was before the pandemic and who I am now, and I've grown so much.
→ Identity formation: During the pandemic, I reevaluated my identity as an organizer and an activist and how I take on those identities in the spaces that I am in. A big shift in my activism work was asking: how am I advocating for myself as a Black woman in spaces? How am I showing up? The world was slowing down, and this gave me the chance to figure out who I am. I was trying to lean in more to my creativity, which I had pushed aside for a long time.
→ Vulnerability: The pandemic changed the way I look at the classroom space. We were all sitting in our homes. It felt very intimate. We were all living this traumatic experience together. Academia always felt like this place where vulnerability wasn't allowed. I saw this clear distinction between my academic experience and all the other things that were going on in my life. And I eventually grew to see my academic experience as a place where I can also exhibit vulnerability and bring what I'm learning through my community service and leadership training experiences as a Bonner Scholar into the classroom.
→ Building community: My classmates and I found these little pieces of community even though we were so spread out. It happened organically. We were able to transcend the classroom in a way that we hadn't in the past. I feel closer with my professors than when we were in person and their offices were just a stone's throw away from my dorm room. I don't want to lose those relationships that we've developed over the past year.
"I think about who I was before the pandemic and who I am now, and I've grown so much."
Sohaib Alzoubi
Senior, economics and politics double major
Bard College, Berlin, Germany
→ Uncertainty: When the pandemic started, there was no certainty. We started one month of physical classes, and then the next month, we had to go to virtual classes. We could contact faculty or administrators when we needed them, but it was mostly through emails. Students lost this powerful connection we had with each other before the lockdown, when every day we would meet in the cafeteria. Also, you didn't know how to organize your life, especially in my case with a child when they closed the kindergarten. It was really difficult to manage. All of these things happened suddenly without any preparation.
"The lockdown gave me time to think and to come up with some creative ideas."
→ Adversity is not new: Being in Syria with the civil war, being in jail four times (one time for six months), and being exiled and kicked out of university in Syria because of my role in civil society activism taught me that even the worst things in the world have some advantages. The same applies with the pandemic. Either give up, or find the advantages of it.
→ Deeper relationship with family: When my family started to spend more time together, we realized we didn't know each other as well as we thought. It was a good experiment. It was a moment to reconcile your family relationships. I learned from this experience that we don't know even the closest people to us. This improved our relationship, and we are a better family.
→ Enhanced class discussions: Some of the advantages for class during lockdown came from the Zoom platform. The ability to divide students into rooms gave more time for group discussion and interaction. Our college's whole curriculum is based on discussion, argument, and talking. It's not a lecture where you will get bored if you are not attending physically. When students met online, they became happy, because there was no life outside.
→ Activism infused with new knowledge:
Most of my civil society activism has happened outside of Syria, and it mainly depends on virtual meetings, so nothing changed because of the pandemic. One of the things that I realized is that we started to go to the action before planning or thinking. You need to know why you are doing something. I need to learn a lot before having enough capacity to make a change. The lockdown gave me time to think and to come up with some creative ideas.
Karlo Ruiz
Junior, biochemistry major
Framingham State University, Framingham, Massachusetts
→ The value of education: I've always loved reading and learning new things. Starting when I was three years old, my dad would take me to a bookstore every Friday and buy me a new book. At four years old, I was reading two-hundred-page books. I'm also multilingual—I'm fluent in Spanish, and I'm learning French. Education is something I've always wanted in my life. It does nothing but help you.
"You go through tribulations to learn things that you may not have learned otherwise."
→ Academic challenges: All my courses were online last spring, except for labs. I went into the semester with determination and commitment, but I was not getting the results I wanted. I had been on the dean's list, but my GPA went down, and I had to withdraw from courses for the first time in my academic career. I love being in the classroom, connecting with other students, and forming study groups, and when I couldn't do those things, it really affected me. Also, I attend school full time and work three jobs—as a mentor and a tutor, as well as an associate at Home Depot. Last semester, I was lucky if I got three or four hours of sleep a night.
→ Family challenges: Thankfully, no one in our family has been touched by COVID-19. But I'm very close to my aunt, and she was in the hospital with tumors in her lungs. Having COVID on my mind at that time made things even more difficult.
→ Sources of support: The Center for Academic Success and Achievement played a big part in supporting me. I'm blessed to have emotional support from a lot of people who want to see me do well, like my family, my best friend, and my girlfriend.
→ Present and future goals: I want to be the best student and person I can be. I plan to pursue medical school, and I need my GPA to be as high as possible. I have a lot of doctors in my family, but I'm the only one who's interested in radiology.
→ Lessons learned: I don't like the word "failure." You go through tribulations to learn things that you may not have learned otherwise. Last semester took a toll on me mentally, but it gave me new motivation and a clearer vision of the person I want to become. Now I feel like that's coming to fruition.
Derik Bull
Associate's degree student, liberal arts
Cankdeska Cikana Community College, Spirit Lake Reservation, Fort Totten, North Dakota
→ Educational pathways: I chose to attend Cankdeska Cikana Community College (CCCC) because it is in my hometown and the proximity and affordability are excellent. I enrolled at CCCC in 2019 after receiving my GED from the same facility. I am set to graduate this semester, and I plan to further my education at North Dakota State University.
→ Family, community, and COVID-19: Despite being quarantined twice, my family and I pulled through. I cannot say the same for the community, which had many people pass away due to the virus.
"Online education kept me sane when I was quarantined and gave me a way to stay motivated."
→ Remote instruction: Last academic year, my method of study was strictly remote. There were always problems with Zoom or the internet connection, but online education kept me sane when I was quarantined and gave me a way to stay motivated. One of my more interesting courses was Introduction to Native American and Indigenous Studies. We read "All the Real Indians Died Off": And 20 Other Myths About Native Americans by Roxanne Dunbar-Ortiz and Dina Gilio-Whitaker, and we talked about the myths surrounding the Indigenous people of this country.
→ Community engagement during COVID-19: Along with other students, I participated in hosting a corn maze and community garden for youth, with masks and social distancing required, of course. This gave the youth something to look forward to and a chance to learn about the college and the Dakota language. There were signs throughout the maze with information and facts.
→ Being back on campus: It is great being back in the classroom with some familiar faces. I hope classes will be in person as I continue with my education, but it will not deter me if they do go back to remote.
→ Sources of support: Everyone at CCCC played an integral part in helping me get through the year. The faculty and staff here are very helpful and are willing to go out of their way to help students. For example, I work at the college, and my boss allowed me to keep my job and made sure I was paid for the time I was quarantined.
→ Lessons learned: Always mask up and social distance because we hold people's lives in our hands. Fight for what you believe is right, and always make sure the right person is in charge.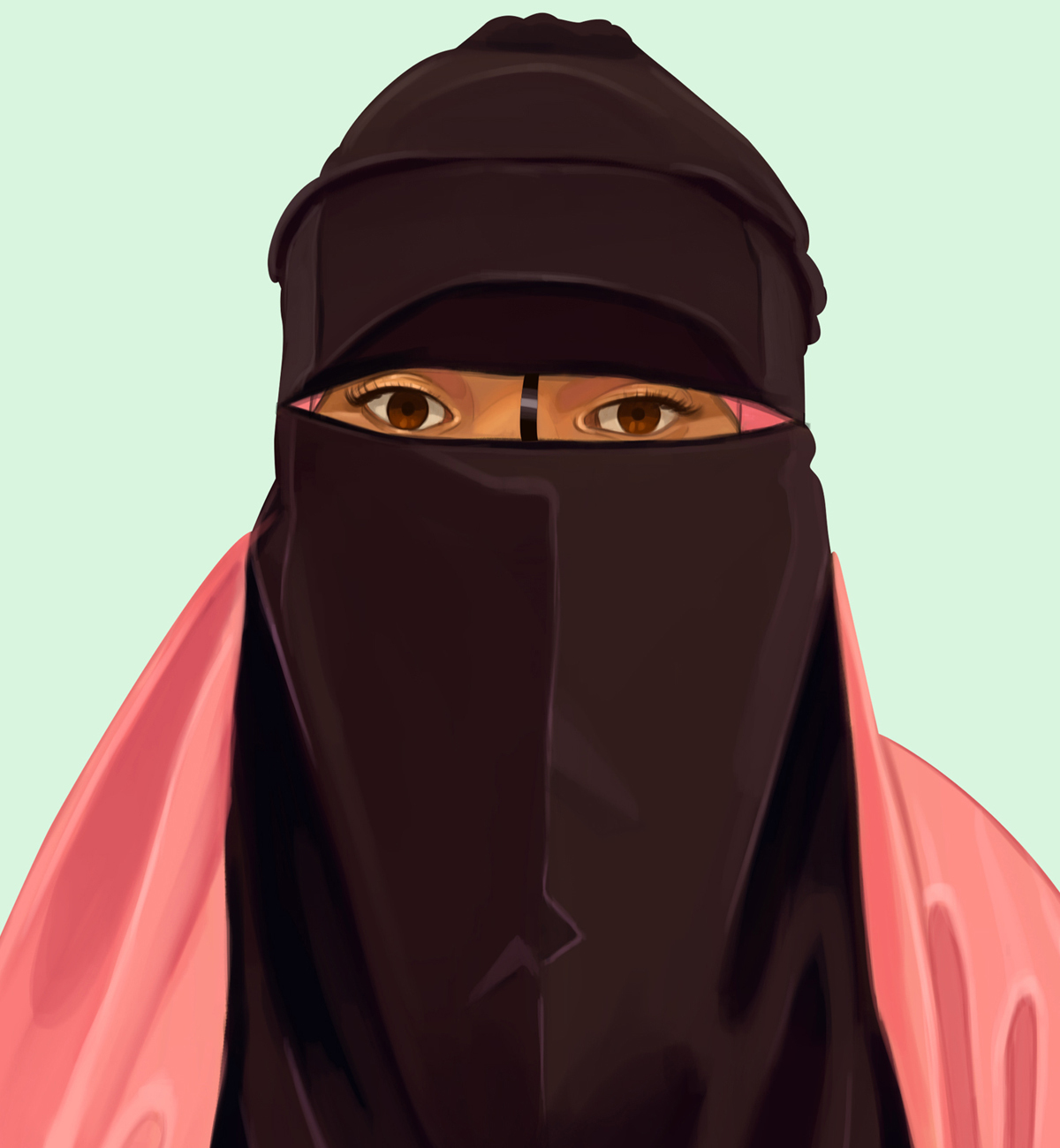 Subban Hassan
2021 graduate, bachelor of science in health sciences
University of Minnesota Rochester
→ COVID-19 compounded by other adversities: Growing up in Somalia was different from living in the United States, so I had to navigate between cultures. The learning opportunity that the University of Minnesota Rochester (UMR) provided me was amazing. But my last year at UMR, I had unfortunate situations, such as the death of my father from cancer, plus the pandemic. I prefer learning in person, but being online gave me time to be there for my father and siblings, since my mom was back home in Somalia waiting for her visa, as most embassies were not functioning because of COVID-19. My four siblings (eleven to eighteen years old) and I were all figuring out this new environment, especially online school.
"Seeking knowledge is the only way to better oneself. Education has always gifted me a sense of purpose."
→ Independence: In high school, the teachers guide you, but in college, you are on your own. The professors are there, but the work that you do outside the classroom and your lifestyle choices are on you. Being from a Muslim background, one of the challenges I faced at UMR was finding time to pray five times during the day. With online classes, I was more independent because I didn't have to ask for permission to go pray.
→ Motivation and support: What allowed me to continue despite whatever I was facing was knowing how much effort my father spent on my siblings and me. My motivation was to give back to my father and be a role model for my siblings. Back home, some women were not provided with opportunities to seek secular knowledge while others chose to stay home for their families per our traditions. My father encouraged me and supported me to study and learn. That is why I don't take education for granted.
My cousins also supported me, especially one who graduated from the same school who knew the system. I had peers who helped me with some courses where I might have struggled and amazing professors who supported me with whatever I had going on in my life.
→ Sense of purpose: Seeking knowledge is the only way to better oneself. Education has always gifted me a sense of purpose. Having a purpose is essential if you are in a situation that you think is impossible. Focusing on why I attended UMR and why I wanted to contribute to the medical field motivated me and prevented me from giving up.
Illustrations by Germán González