Our Home Is Your Home
Why colleges and universities can no longer ignore their responsibility to refugees
By Jane Roche
Alan Kurdi was just three years old when he drowned off the coast of Turkey in the fall of 2015. Shortly after the photo of his body broke hearts around the world, Pope Francis called on every parish in Europe to demonstrate "radical hospitality" by hosting one Syrian family.
"But what did academic institutions do with their broken hearts?" thought Diya Abdo, professor of English at Guilford College in North Carolina. Compelled to do something beyond well-meaning vigils, panels, and teach-ins, she came to a realization: a campus is very much like a parish—a city, even—with abundant resources, from housing to cafeterias to a community and labor force eager to help.
Then she thought, what if every campus in the United States hosted a refugee family? Emboldened, Abdo set up a meeting with Guilford's then-president, Jane Fernandes, and requested a house on campus for a family to use. Fernandes's response? A simple but pivotal "yes." That decision was the start of Every Campus A Refuge (ECAR), a Guilford-based higher education initiative with the goal of partnering every US college and university with a local refugee resettlement office to temporarily support refugees.
"Given Guilford's Quaker values and history of abolitionism, the decision to host a family on campus made sense," says Kyle Farmbry, Guilford College's current president, who has continued to support ECAR's mission.
The belief in equality and social justice that drove Quakers to help people escape enslavement in the United States prior to the Civil War are core values upon which Guilford is founded. Part of the route of the Underground Railroad once passed through campus not far from the president's house, and the area remains sacred and dear to the Guilford community. And long before the Quakers' settlement of Greensboro, the land where Guilford now sits was sacred, also, to the Keyauwee and Saura tribes. Guilford's commitment to stewarding its resources for the dispossessed tangibly demonstrates the college's accountability to the history of those forcibly displaced, here and elsewhere around the world.
Globally right now, a record one hundred million people have been forcibly displaced, the most recent surge stemming from the war in Ukraine. The conflict has pushed more than twelve million Ukrainians from their homes since March 2022, both inside and outside Ukrainian borders.
In 2021, more than 75,000 Afghans were evacuated to the United States. Images of the civilian evacuation—including one of a baby being handed to an American soldier over a fence—hark back to memories of Kurdi, who, had he survived his journey to Europe, would now be ten years old. Our hearts remain broken. Given the United States' direct role in a futile war in Afghanistan, the desire to act carries a heavy sense of responsibility to the allies our country has failed.
Becoming a "resettlement campus," as Abdo calls it, is a small but powerful way for colleges and universities to work toward redressing our nation's history of displacing others—to go beyond radical hospitality and demonstrate "radical accountability."
Since Abdo founded ECAR in 2015, Guilford has hosted more than eighty refugees from Afghanistan, Syria, Iraq, Sudan, Rwanda, Uganda, the Democratic Republic of Congo (DRC), Venezuela, Colombia, and most recently, a family from the Central African Republic. So far, in addition to Guilford, eleven other US campuses have started their own ECAR chapters: Agnes Scott College, Lafayette College, Notre Dame de Namur University (NDNU), Oklahoma State University, Old Dominion University, Purdue University Fort Wayne, Russell Sage College, Siena College, University of Tulsa, Wake Forest University, and Washington State University. Working together with nationwide resettlement agencies, and with relatively modest investments in existing facilities and staff, campuses have given new arrivals a softer landing and a stronger beginning in the United States than they would have had on their own.
In early 2022, NDNU, which is located in California, became the first West Coast campus to host Afghan refugees. NDNU currently houses four families, who were placed through the institution's partner agency, the International Rescue Committee (IRC).
"We have always believed that community service is an integral part of a student's education," says NDNU President Lizbeth Martin. "We had some apartments that were empty, and so it seemed like the ideal situation for us to be able to step up. Supporting the community and people in need is part of the fabric of what we do."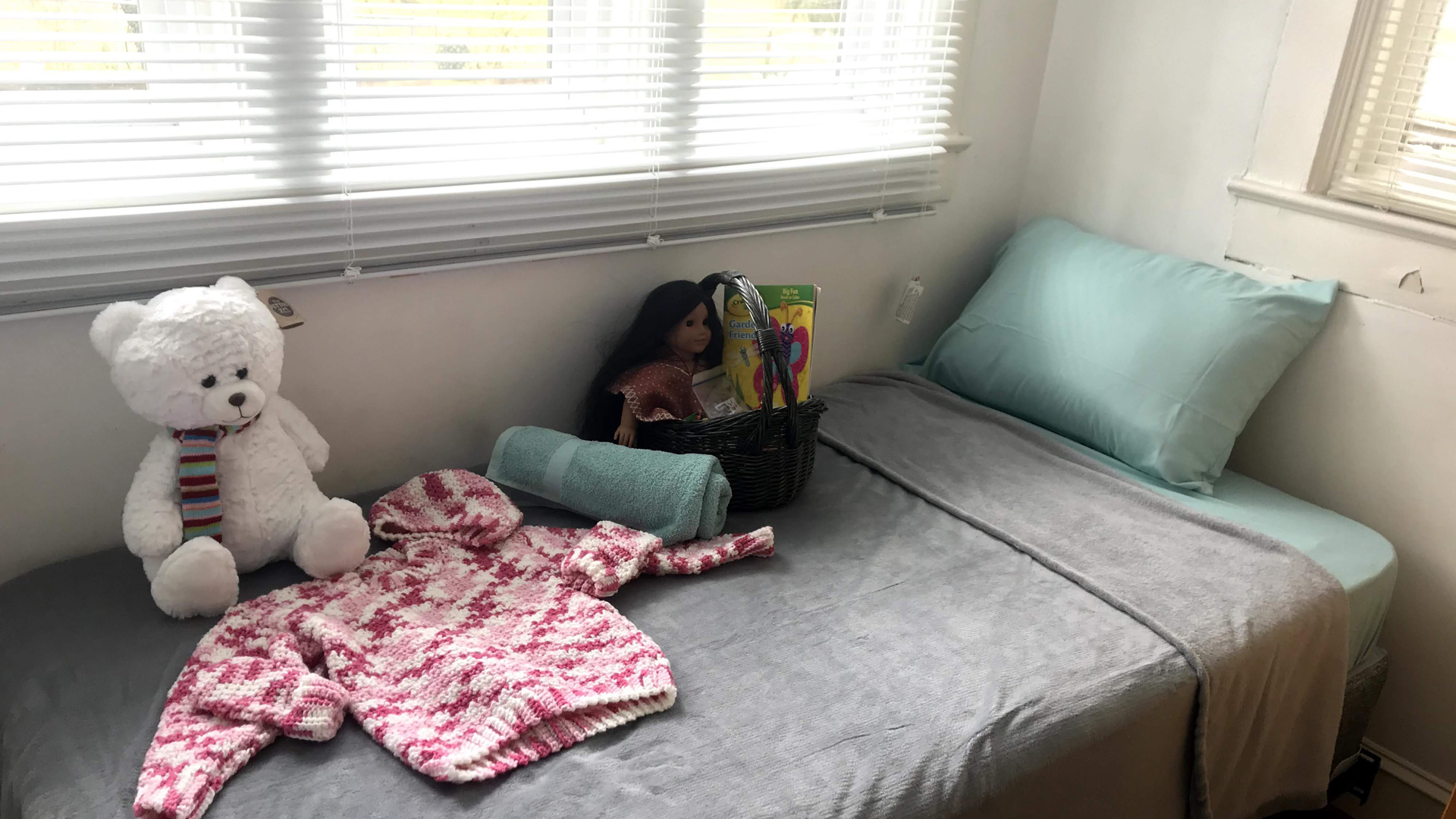 ECAR chapters have collectively hosted nearly 240 refugees and counting. Hundreds more are staying as guests on other campuses, with assistance from ECAR and partners, in a shifting landscape of refugee resettlement support. Still, with nearly four thousand colleges and universities across the country, according to the latest count by the US Department of Education, there is enormous untapped potential to help bridge the gap between need and availability.
The Biden administration's proposed goal for fiscal year 2023 is to resettle 125,000 refugees through the US Refugee Admissions Program (USRAP). An especially urgent issue is housing, and this is where resettlement campuses come in.
"There are plenty of possibilities and open spaces on campuses to utilize," says Jim Hood, who helped smooth the way for a second ECAR house at Guilford during his tenure as interim president. Recently retired, he remains a devoted ECAR volunteer by delivering furniture donations with his pickup truck.
The college contribution of temporary housing can make a substantial difference for new arrivals, each of whom traditionally receives a one-time government stipend of $1,025 to be used for rent and other living expenses. But that money quickly runs out.
ECAR housing, which is available for free to newcomers for up to six months (and sometimes more), empowers refugees to start building resources for independence. For example, one of Guilford's early beneficiaries, Blaise Pascal, who had come from the DRC, was able to save up for his own apartment in Greensboro because of the campus housing he received when he first arrived in the United States. He also bought a car, which he now drives to his job as an interpreter at the Center for New North Carolinians at the University of North Carolina Greensboro.
Beyond housing, campuses have copious, often underutilized assets that can go a long way. Cheps Joram, originally from Uganda and ECAR's first refugee guest, says Guilford covered his meals at the cafeteria and gave him access to the gym during his stay on campus in 2016. He also had access to Guilford's community—students, faculty, and staff—who welcomed him at the airport. He says they helped him with everything from tutoring him in English to assisting him with finding permanent housing.
Joram credits ECAR for helping him get where he is today—he now lives at his own place, works as a forklift operator, and is a US citizen. The ECAR volunteers have become like family. He was grateful to have them by his side as he prepared for his naturalization ceremony. One volunteer helped him pick out a suit for the big day. "Now I have a voice," he says, "and can vote for the person of my choice. That's a big deal."
Joram has also been able to give back. "Now I'm one of the volunteers," he says. Remembering his struggle with the language barrier and search for comfort food from home, he serves as an interpreter for Kiswahili speakers and shows them the best place to buy corn flour and yams.
Since 1980, USRAP has resettled more than three million refugees. Before refugees arrive in the United States, they undergo two to four years of intensive vetting by the US government. After they arrive, nonprofit resettlement agencies such as IRC and Church World Service (CWS), which pairs with Guilford, provide reception and placement (R&P) services, tasking local affiliate offices to help secure housing and employment among refugees within the first ninety days after arrival.
Case managers at the local resettlement offices help refugees find jobs, access government benefits, and register children for school. But their agencies, already under-resourced, are buckling under pressures from the COVID-19 pandemic and the 2021 Afghan evacuation.
As partners, ECAR chapters coordinate with case managers to see how volunteers can help, for instance, by offering to take clients to the Social Security office or grocery store. ECAR also provides integration support based on what newcomers identify as valuable, such as connecting families to local mosques or churches or providing opportunities to socialize.
"We harness whatever material or human resources we can to help people feel at home," says Kathleen Herbst, ECAR's program coordinator at Guilford.
Though campuses provide vital support in temporarily accepting refugees, the resettlement agency remains the primary service provider and bears full legal responsibility for case management.
Megan Shepard, director of CWS Greensboro, explains that ECAR's novelty lies in the partnership between the resettlement agency and the higher education institution. "For a highly reputable institution like Guilford to open their doors and provide this support is exemplary," she notes.
Joram agrees. While CWS helped him financially and helped him access benefits and employment, resettlement agencies have neither the time nor the people power to show newcomers how to navigate the nuances of American life. As he puts it, "Resettlement agencies give refugees the tools but are not always able to demonstrate how to use them."
Ree Ree Wei, a recent graduate of Guilford and longtime ECAR volunteer, experienced the gaps in the system firsthand when she arrived as a refugee with her family as a child. Born in a refugee camp in Thailand, her memories of isolation as a newcomer motivated her to join ECAR when she started college. She says that volunteering with ECAR gave her the opportunity to use her lived experience to help newcomers and, as she says, "just be their friend."
To foster a sense of belonging, volunteers mobilize members of the campus community around guests' interests. "We make sure guests find something that brings them joy," says Juliana Hubbard, a Guilford senior and ECAR volunteer. For example, after learning that Pascal played guitar, volunteers organized a jam session for him and other musicians on campus.
That human connection is lasting. "Our relationship doesn't end, hard stop, after people move off campus," Hubbard says. "They forever and always will be part of this community and know that we will continue to support them."
Student volunteers, with support from faculty, staff, and local resettlement agencies, fuel ECAR. Wake Forest professors Michaelle Browers and Alessandra von Burg cofounded an ECAR chapter on their campus with a group of faculty, staff, and students. They rely heavily on their partnership with the Student Association for the Advancement of Refugees (SAFAR), an established student-led organization at Wake Forest, to help provide services.
"We couldn't do anything without students," von Burg says.
ECAR, in turn, invests in students. As a natural byproduct of their service, students sharpen invaluable skills to wield in an increasingly complex world. The mission of Guilford's Center for Principled Problem Solving and Excellence in Teaching (CPPSET), which coordinates ECAR's flagship chapter, is to prepare students to tackle real-world problems hands on.
The center created an ECAR minor called Forced Migration and Refugee Resettlement Studies, a two-year program bridging academic and experiential learning. Students do coursework on global forced migration trends and local refugee experiences. They serve as ECAR volunteers and, for their capstone experience, design and implement their own projects, such as summer programs for refugee children.
"In a very pragmatic sense," says Mark Justad, the center's director, "students become an expert in a problem and then engage it in a trial way with practitioners in the field."
ECAR also creates global citizens who, Hood says, "understand the situation of people with circumstances very different from their own." Due to inequitable access and now the pandemic, a generation of students is missing out on global citizenship education through study abroad. ECAR provides students alternative opportunities to "study abroad 'at home' and obtain an experiential global education at a local level," Abdo adds.
Recent graduates value the tools ECAR gave them to address real-world issues. Wei, who majored in community and social justice studies and minored in forced migration and resettlement studies, now directs Transplanting Traditions Community Farm, a nonprofit organization that provides education, farm space, and food to refugee communities in Chapel Hill, North Carolina. The ECAR minor, she says, gave her the foundation to understand her community's needs as part of a bigger picture. Difficulties like not being able to afford a car, she learned, are symptoms of bigger systemic issues.
Above all else, students are expected and trained to prioritize the dignity, agency, and privacy of guests. For instance, student volunteers undergo background checks, sign confidentiality agreements before working with guests, and are prohibited from interviewing families currently living on campus for class projects.
In recent years, Abdo has observed within the higher education community a deepening "existential dread about our relevance in the modern world and what we offer students."
Colleges and universities, she says, should ask not only what ECAR can do as a humanitarian effort but also as a college program embedded in institutional strategy. Besides providing students with opportunities to study abroad at home, can it enhance service-learning programs or demonstrate stated commitments to equity, diversity, and inclusion?
The National Student Clearinghouse Research Center reports that in spring 2022, US universities and colleges had 1.3 million fewer students than before the pandemic. Abdo attributes the student enrollment crisis not just to COVID-19 and rising tuition costs but also to young people's general disenchantment with higher education on issues of systemic racism, xenophobia, and sexism.
Starting an ECAR chapter, Abdo believes, "shows students that you're 'talking the talk and walking the walk.' "
Shelly Calabrese, who directs Russell Sage's Women's Institute and facilitated the creation of the college's ECAR chapter, similarly invites colleges and universities to consider their prospective student bodies. "Gen Z is passionate about making a difference," she says. "Students will be more likely to choose your college because you're doing work that makes a real impact in the world."
ECAR's appeal is substantiated by students like Herbst and Hubbard, both of whom learned about ECAR through an NPR interview with Abdo. As she listened to the interview, Hubbard thought, "I would love to be where the campus dedicates that much time, energy, and people power to a mission like ECAR." She ultimately chose to attend Guilford because it "advertises itself as a school focused on community and social justice, and ECAR embodies that."
ECAR also galvanizes alumni, who, according to Abdo, "are thrilled when their institutions become resettlement campuses." Frequently, she sees alumni posting on social media about ECAR, declaring, "So proud of my alma mater!"
By increasing student enrollment and engaging alumni, resettlement campuses get a high return on their investment, which in Abdo's experience is "one of the least expensive things your campus can do." ECAR, she says, is designed to leverage existing, underutilized campus resources for one family, one time. "If the house is already sitting there, unused, it's cost neutral," she explains. "Maybe it's going to be off market for six months because a faculty member has moved out. Just use that house for six months."
ECAR volunteers apply this concept to make a real impact. For example, Guilford graduate Amelia Wellman recalls that when she was a summer intern at CWS, she struggled to find affordable housing for an imminently arriving family. "We tried everything we could," she says. "We looked through every housing rental website but couldn't find anything that fit their budget."
Then she had an idea. With most students away for the summer, she realized Guilford might be able to offer temporary housing in dormitories. "I thought it was worth a try," she says. "I called Diya [Abdo] who said, 'We can do that!' " In the end, Wellman was able to secure housing that would otherwise have been wasted.
Costs can vary depending on the institution. At the Guilford ECAR chapter, the college invests a modest $12,000 per year for housing and utilities.
Part-time staffing is also needed to coordinate volunteers, the resettlement agency partnership, and student engagement. ECAR chapters build teams in myriad ways; Guilford funds its ECAR program coordinator through an annual $15,000 CPPSET fellowship. Other ECAR chapters leverage existing graduate assistantships or student organizations, such as SAFAR at Wake Forest, at no cost.
For campuses considering making this investment, Ali Schaeffing, cofounder of Russell Sage's ECAR chapter and director of service learning and community engagement, recommends doing two things: "First, find a couple of champions at your institution—faculty, staff, or students—who want to pursue it with you. Two, get connected to your local refugee nonprofit."
Campuses seeking to partner with local resettlement agencies can use the Partnerships for Establishing Resettlement Campuses map tool at everycampusarefuge.net/perc-map.
While campuses are distinctively primed to make a meaningful impact on the lives of refugees, there is no one-size-fits-all approach to starting an ECAR chapter. At a minimum, each chapter should offer housing, facilities, and integration support to a newcomer family for a period, while safeguarding their agency, dignity, and privacy. But who provides these services, and where and how they are provided, will differ from campus to campus.
Wake Forest University, for example, hosts refugees who already live in the community instead of new arrivals. The Wake Forest chapter, according to Browers, currently seeks to help refugees who are "struggl[ing] a bit more than others and just need something to catapult them."
Pascal hopes more institutions become resettlement campuses and do for others what Guilford did for him. "You can be a shelter," he says, "a new start for people who lost their homes."
Lead photo: Every Campus A Refuge (ECAR), based at Guilford College, aims to partner every US college and university with a local refugee resettlement office to temporarily support refugees like Blaise Pascal (with guitar), who is from the Democratic Republic of Congo. (Kathleen Herbst)