Academic Minute Podcast
Weian Zhao, University of California Irvine – Transforming the Personalization of Care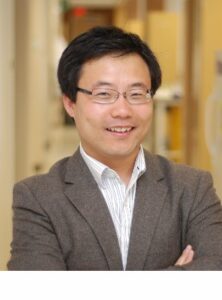 The more information we have, the better we can treat a patient.
Weian Zhao, professor of pharmaceutical sciences at the University of California, Irvine, examines how to transform the personalization of care.
Dr. Weian Zhao is a tenured full Professor and entrepreneur at the Sue and Bill Gross Stem Cell Research Center, Chao Family Comprehensive Cancer Center, Department of Biomedical Engineering, and Department of Pharmaceutical Sciences at University of California, Irvine. Dr. Zhao is also a co-founder of several start-up companies that aim to develop technologies for rapid diagnosis, stem cell therapy, and drug discovery, respectively.
Transforming the Personalization of Care

Our team has developed a new biopsy technology that can profile multiple tumor microenvironment biomarkers simultaneously, revealing cellular spatial organization and interactions that will help advance personalized disease diagnosis and treatment. This research was conducted by Dr. Vu, Dr. Vallmitjana and Dr. Gu with an interdisciplinary team, and co-authored by myself. Current single-biomarker biopsies are unable to analyze multiple different markers easily and often fail to predict patient outcomes. This development may change the field by allowing numerous markers to be seen. In a picture – think of a search engine, able to analyze data from multiple areas quickly to identify what's needed in your personal search.
Termed the Multi Omic Single-scan Assay with Integrated Combinatorial Analysis (MOSAICA), the fluorescence imaging-based technology can spatially profile a large number of mRNA and protein markers in cells and tissues, including clinical tumor tissues. Our data shows that MOSAICA enables direct, highly multiplexed biomarker profiling in a 3D spatial context using a single round of staining and imaging instead of the repeated processing steps typically needed in conventional methods.
In addition, with the current technology in this space having difficulty being easy to use and multiplex, this team has developed a potential solution and innovation that could apply to future developments. MOSAICA is easy-to-use, rapid and cost effective. With this holistic view of a variety of cancer cell types it will enable scientists and researchers to personalize diagnosis and treatment.
The details within biomarkers reveal much about a patient's disease and cancer. The more we can know will be the better we can prepare and work to help patients. The MOSAICA is a step in the direction of transforming the personalization of care.
The post Weian Zhao, University of California Irvine – Transforming the Personalization of Care appeared first on The Academic Minute.