Academic Minute Podcast
Marie Abreu, University of Miami –Diet Studies for Patients with IBD and Crohn's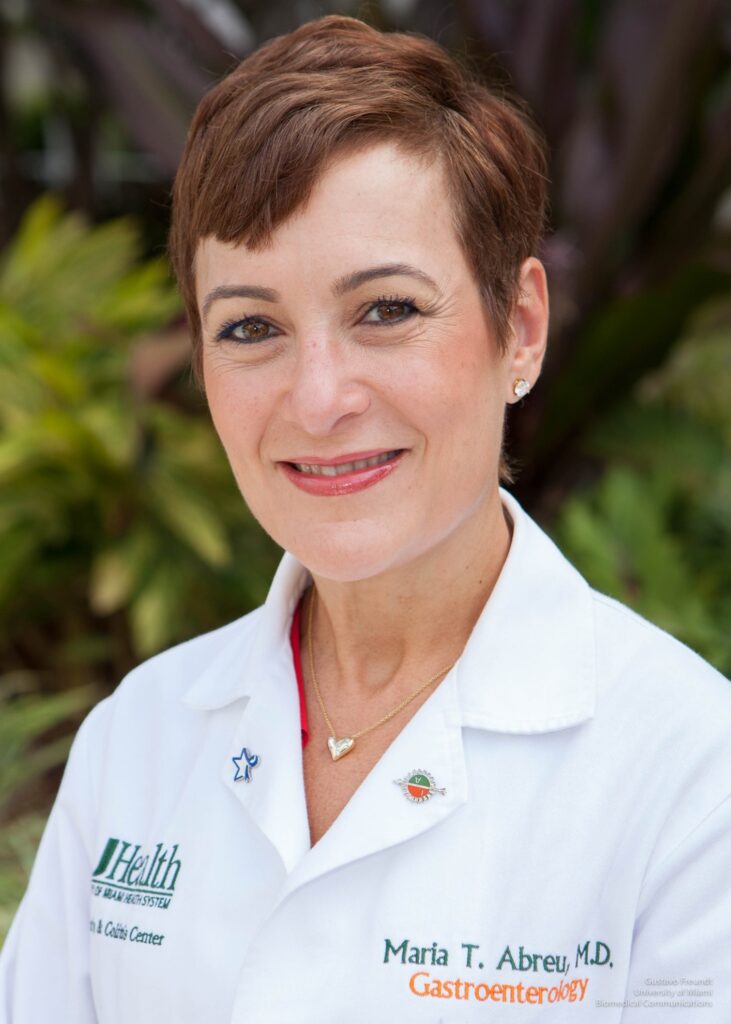 On University of Miami Miller School of Medicine Week: Those suffering from Crohn's disease want to know: what should we eat?
Maria Abreu, professor of medicine, looks into the best diet for this affliction.
Dr. Maria Abreu is a renowned gastroenterologist at the University of Miami Miller School of Medicine. She is a professor of medicine and professor of microbiology and immunology and director of the University of Miami Health System Crohn's & Colitis Center.
Dr. Abreu has been selected as vice president of the American Gastroenterological Association which puts her in line to be president-elect in 2023 and president of the 16,000-member association in 2024.
Dr. Abreu is also the recipient of the 2019 Sherman Prize awarded by the Bruce and Cynthia Sherman Charitable Foundation which recognizes outstanding achievements in the fight to overcome Crohn's disease and ulcerative colitis.
Diet Studies for Patients with IBD and Crohn's

Crohn's disease and ulcerative colitis are diseases that are characterized by chronic inflammation of the intestine. In the last few years, it has become clear that there's a genetic basis for these disorders, but also a very important environmental component which is the interface of the microbiome, and diet as an influencer in the development of these diseases. With the ability to sequence DNA, we now have a much better understanding of the microbial communities that live in the normal colon.
Now, the challenge becomes how to harness the power of the microbiome for the treatment of inflammatory bowel disease, or IBD. That leads to a very common question asked by patients …. what should I eat? So, we decided to explore this through research.
In our study, we examined catered diets for patients with IBD. It was a crossover design where patients either start with a high fat, low fiber diet, or with a low fat, high fiber diet for four weeks. They then had two weeks off before beginning another four weeks of the alternate diet.
We found that at baseline, patients were eating a terrible diet with almost no consumption of fruits and vegetables and a diet that was slightly higher in fat than what we were providing them in the high fat diet. So, we noted that both diets were already healthier than the patients' baseline diets, in general.
Our research found that patients saw greater improvement in their microbiome profiles, a decrease in inflammatory markers, and an improved quality of life with the low-fat diet. As researchers our goal is always to see how these outcomes can expand to other conditions and if we can replicate our findings. As such, we are now repeating this study in patients with Crohn's disease.
Studies such as the ones we are conducting help us understand what is happening at a molecular level and are extremely important if we want to capitalize on the potential benefits of diet as therapy.
Ultimately our goal is to make lasting changes in diet behavior in patients with IBD or Crohn's.
The post Marie Abreu, University of Miami – Diet Studies for Patients with IBD and Crohn's appeared first on The Academic Minute.