Academic Minute Podcast
Timothy Frye, Columbia University – Weak Strongmen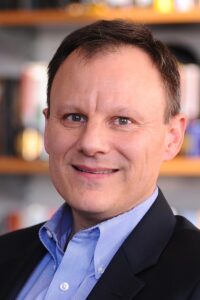 Being a dictator can seem simple, but is it?
Timothy Frye, professor of post-soviet foreign policy at Columbia University, examines what pitfalls a despot may encounter to stay in power.
Timothy Frye received a B.A. from Middlebury College in Russian language and literature, an M.A. in International Affairs from Columbia University, and a Ph.D. in Political Science from Columbia University. His research and teaching interests are in comparative politics and political economy with a geographic focus on Eurasia, including, Russia, Central Asia, and Europe. His most recent book Weak Strongman: The Limits of Power in Putin's Russia (Princeton University Press, 2021).
He co-directs the International Center for the Study of Institutions and Development (ICSID) at the Higher School of Economics in Moscow and edits Post-Soviet Affairs and the former Director of the Harriman Institute at Columbia. He has worked as a consultant for the World Bank, the European Bank for Reconstruction and Development, the Bloomberg Foundation, and the U.S. Agency for International Development.
Weak Strongmen

Most observers view autocrats like Vladimir Putin as all-powerful because they have few public rivals and can use repression against political opponents. But they all face a key dilemma that limits their power. Whereas leaders in democracies can be removed via elections, leaders in autocracies can lose office in two ways: via a coup or popular revolt. To make matters worse, autocrats can rarely address both threats at the same time. They often have to choose whether to reward their elite cronies to prevent a coup or the masses to prevent a revolt.
Balancing these threats generates many difficult tradeoffs. Cheat too little on elections and risk losing office, but cheat too much and signal weakness to your opponents. Use corruption to reward your elite friends, but not so much that it slows economic growth and sparks a revolt. Manipulate the media, but not so much that people turn off the television. Repress your political opponents, but not so much that it causes a backlash. Empower the security services, but not so much that they can overthrow you.
Rulers who fail to resolve these tradeoffs often suffer the consequences. Research finds that over the last 70 years autocrats like Vladimir Putin who lose power end up in jail, exile, or dead more often than not.
Over the last decade the share of the world's population living under autocracy increased from 48 to 68 percent. It is more important than ever to understand how autocracies work. Autocrats have a keen interest in promoting the idea that they are all powerful, but we shouldn't buy the hype.
The post Timothy Frye, Columbia University – Weak Strongmen appeared first on The Academic Minute.