Academic Minute Podcast
Robert Edgell, SUNY Polytechnic Institute – 1962 and the First Commercial Space Firm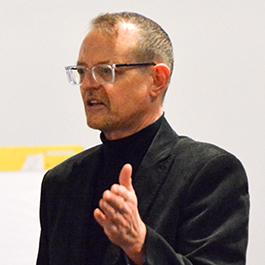 What was COMSAT?
Robert Edgell, professor of technology management at SUNY Polytechnic Institute, goes back to the Space Race to find out.
Dr. Edgell is currently a Professor of Technology Management and Co-Director of the Joint Center for Creativity, Design, and Venturing at SUNY Polytechnic Institute. He directs Innovation Challenge New York (ICNY), an integrated community-based experiential learning, research, and service program and has been a recipient of the Chancellor's Award for Excellence in Teaching. He has been a Visiting Professor at the Swiss Business School in Zurich and has delivered research papers and lectures at Stanford University's Law School, the University of California San Francisco's School of Dentistry, the California College of the Arts, and the University of St. Gallen. Previously, he was an Assistant Professor at American University's Kogod School of Business where he was named Outstanding Faculty. Also, he has taught at San Francisco State University's College of Business.
Dr. Edgell has served in various leadership capacities as a department chair, interim dean, and on several committees. He was a former board member of the Cyber Security Institute at Griffiss Institute and currently serves as a board member of Sculpture Space. He has presented his scholarship, reviewed papers, and chaired sessions at the Academy of Management, the International Atlantic Economics Society, and the Association of American Colleges & Universities among others. His scholarship agenda expands upon his deep commitment to exploring the intersections among economics, human behavior, the humanities, art, and design. He currently researches institutional change processes, design culture, and entrepreneurial capacity development for outer space. His grant portfolio includes a prestigious $100,000 National Endowment for the Humanities (NEH) Humanities Connections grant, a $40,000 SUNY System Performance Improvement Funds, and a $25,000 NYSTEC donation for supporting his entrepreneurial Initiatives and related research. He has been recognized as a "Campus Connector" by Upstate Venture Ecosystems and has earned the Social Sciences Research Network (SSRN) top 10% of Authors designation based on total new downloads.
Dr. Edgell received his PhD in international multicultural management (magna cum laude) from the University of St. Gallen in Switzerland. He holds an MBA from Columbia University Business School in the City of New York and a five-year Bachelor of Architecture from Kent State University, College of Architecture and Environmental Design. Through Columbia's Chazen Institute of International Business, he studied at Erasmus University, Rotterdam School of Management in The Netherlands. He is a registered Architect and has studied at Harvard University, Graduate School of Design.
1962 and the First Commercial Space Firm

In the debate about effective means for realizing a robust outer space economy, several voices romanticize lone private industry actors over governmental agencies. Yet does the private New Space movement offer the best means?
For our research, we peered back nearly sixty years through time to the dawn of the "space race". That was the moment when humans first attempted to commercialize outer space. The U.S. government enacted the "Communications Satellite Act of 1962", a public-private partnership which resulted in the first-ever publicly traded firm operating in Earth's orbit. It was called Comsat, short for the Communications Satellite Corporation.
Comsat incentivized and legitimized the beginnings of an institutional pathway for public-private sector networks. This manifested greater international cooperation and national security by creating an affordable and more effective transnational communications system which later supported ground-breaking achievements such as Apollo 11. Through Comsat, humanity was able to collectively overcome unknowable risks, momentous political discord, and colossal investment hurdles.
Our findings indicate that without government-orchestrated infrastructure such as provisioning stations, it may not be feasible for private industry alone to successfully undertake daunting opportunities such as asteroid mining.
While New Space entrepreneurs contribute useful innovations, none alone are as sufficiently capable of complex systematic feats as was the remarkable and innovative Comsat.
The post Robert Edgell, SUNY Polytechnic Institute – 1962 and the First Commercial Space Firm appeared first on The Academic Minute.