Academic Minute Podcast
Renee Lambert-Bretiere – Democratizing Access to Digital Tools in the Documentation of the Innu Language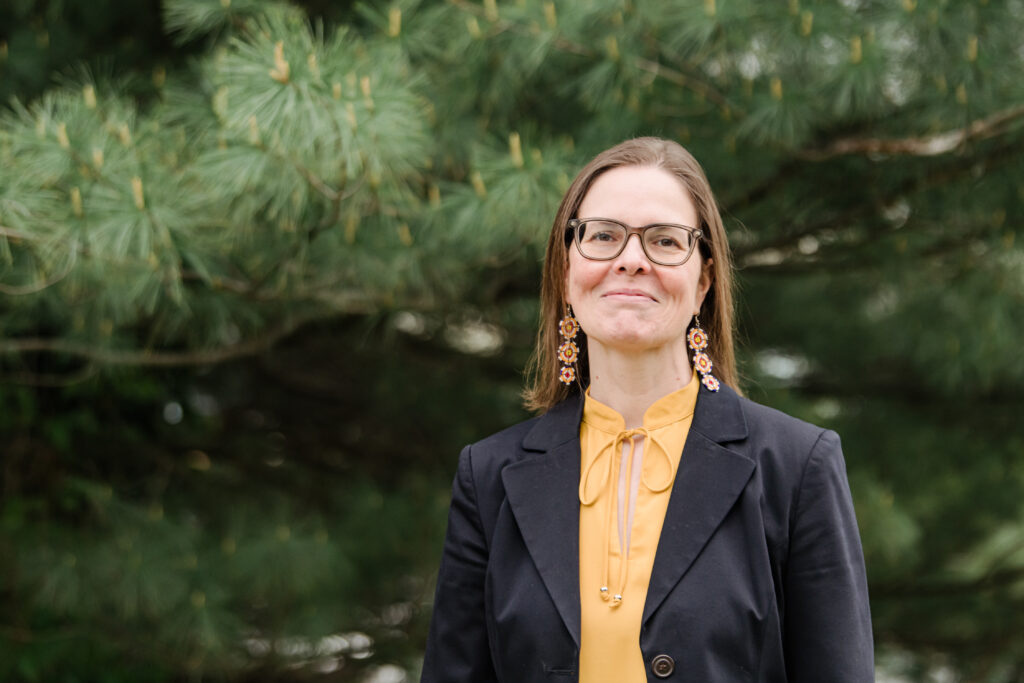 On University of Maryland Baltimore County Week: Digital tools can help preserve languages that may otherwise become extinct.
Renée Lambert-Brétière, associate professor of linguistics, looks into democratizing the process of documentation.
Renée Lambert-Brétière is a linguist in the department of Modern Languages, Linguistics and Intercultural Communication at UMBC. She specializes in the documentation of the ethnolinguistic heritage of Indigenous peoples, cross-linguistic typology, discourse-based functional linguistics, and language contact. She has done in-depth research on three very different languages in different parts of the world. This includes work on Fon, a Kwa language spoken in Benin in West Africa, Kwoma, a non-Austronesian language of Papua New Guinea, and Innu, an Indigenous Algonquian language of Canada. Her book, À la recherche d'un signe perdu: Jean-Baptiste de La Brosse, S.J., Éléments de languemontagnaise (1768) (Chemins de tr@verse, 2018), is the first edition of the grammar of the Innu language written in Latin in 1768 by the Jesuit Jean-Baptiste de La Brosse, and offers a unique testimony on the state of this nomadic language in the middle of the eighteenth century. Her research has appeared in peer-reviewed outlets that include Journal of Language Diversity, Anthropological Linguistics, Journal de la société des océanistes, and Annual Review of Cognitive Linguistics.
Dr. Lambert-Brétière received her Bachelor of Arts and Master of Arts in Linguistics from the University of Quebec at Montreal, Master of Advanced Studies in Theoretical, Descriptive and Computational Linguistics from the University of Paris, and Doctor of Philosophy for the University of Lyon.
Democratizing Access to Digital Tools in the Documentation of the Innu Language

Language documentation aims to capture and preserve the linguistic practices of a given community in the form of video and/or audio recordings with time-aligned annotations, consisting of transcription, translation, and linguistic analysis. New advances in information technology have improved the quality and quantity of data collected, and new software applications streamline the tasks of language documentation. These have also widened the gap between linguists and the communities whose languages are being documented, and who may not have the necessary digital literacy to use and access these tools.
This project is the result of a collaborative and community-engaged research with Innu speaking communities of Quebec in Canada, that seeks to democratize access to digital tools involved in the documentation of their language. These tools serve different purposes, from facilitating transcription to interaligning lexical and grammatical analyses to audiovisual recordings. Framed within the empowerment collaborative model where the establishment of an equal relationship between researcher and community members is a basic methodological principle, I propose an analytical framework that brings together research on language documentation and practical considerations in the use of documentation software programs to investigate complex linguistic structures of Innu, for example its polysynthetic verbal morphology, and the presence of contrastive grammatical pitch.
Mobilizing methodologies of linguistics, digital and public humanities, this research makes an important contribution to current developments in language documentation research and constitutes a major step in broadening the tools for language preservation within the Innu speech communities.
The post Renée Lambert-Brétière – Democratizing Access to Digital Tools in the Documentation of the Innu Language appeared first on The Academic Minute.