Academic Minute Podcast
Chelda Smith Kondo, University of St. Thomas – Pedagogy of Humanization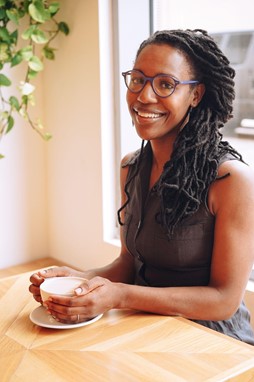 On University of St. Thomas Week: Who you are influences how you teach.
Chelda Smith Kondo, assistant professor of education, explores the effects.
Chelda Smith Kondo, Ph.D., (she/her/hers) identifies as a cisgender, able-bodied, Americanized Haitian woman. Chelda is an Associate Professor of Education specializing in Culturally Sustaining Pedagogy at the University of St. Thomas (UST). Prior to joining UST, she served as an associate professor of Critical Multicultural Education at Georgia Southern University, where she was also director of the Elementary Education Master of Arts in Teaching, a social justice education and initial licensure program that she co-founded. Her scholarship has been published in leading education and interdisciplinary journals and spans intersectional justice in education, qualitative research, and asset-based pedagogy.
Pedagogy of Humanization

To understand the concept of pedagogy of humanization, we first have to understand what pedagogy means. In my research, pedagogy encompasses 'who you are' and 'how you teach.' The 'Who you are' part considers a person's biases (both implicit & explicit), cultural competencies and practices, knowledge, skills, and values- such as autonomy; beauty; competition, or fairness.
The 'How you teach' portion of pedagogy references what we traditionally think of as instructional strategies. Whether you're a parent, mentor, trainer, teacher, or coach- you transfer knowledge, skills, and dispositions in a particular way. The 'how you teach' portion of pedagogy includes materials and resources you might use, the level of rigor, your pacing, and even classroom management. Like parenting, "How you teach" changes based on your audience's age, skillsets, knowledge, strengths, and interests.
Pedagogy is the combination of 'Who you are' and "how you teach" because the two elements inform each other however many of us assume a certain value system of teachers as "kind, patient, fair, etc" Those traits are not benign. What does "fair" mean in an unjust world? Does being kind and patient mean ignoring one's boundaries? What if you value beauty, but that beauty is based on European standards and your class is most West African or Asian? Our biases inform our pedagogy.
Humanization is the process of believing, affirming, investing, trusting, and empowering people who have historically not been given the grace to exist beyond deficit stereotypes or measured against white, middle class, abelist, heterosexual, norms.
Pedagogy of humanization requires an assumption of each individual's worth, goodness, intelligence, beauty or morality, including the self. When teachers, practice a pedagogy of humanization, students' cultures, identities and strengths are appreciated, and more importantly that the teacher invests in children to set them up for success by meeting their equitable needs.
The post Chelda Smith Kondo, University of St. Thomas – Pedagogy of Humanization appeared first on The Academic Minute.