Academic Minute Podcast
William Herbert, Hunter College – 50 Years of Higher Education Collective Bargaining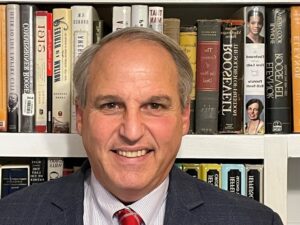 How do we push higher education forward?
William Herbert, distinguished lecturer and executive director of the national center for the study of collective bargaining in higher education and the professions at Hunter College, looks into this question.
William A. Herbert is a Distinguished Lecturer and Executive Director of the National Center for the Study of Collective Bargaining in Higher Education and the Professions, Hunter College.
His scholarship examines higher education unionization, public sector labor law, policy and history, and workplace surveillance technologies. Prior to joining the Hunter College faculty, Mr. Herbert was Deputy Chair of the New York State Public Employment Relations Board. Before his tenure in state govenment, he practiced labor and employment law for over two decades in federal and state courts, administrative agencies, and in arbitration.
Mr. Herbert is a graduate of the University at Buffalo and the Benjamin N. Cardozo School of Law, Yeshiva University.
50 Years of Higher Education Collective Bargaining

In late March 2023, the National Center for the Study of Collective Bargaining in Higher Education and the Professions held our 50th anniversary conference. The conference provided us with an opportunity to look back and to look forward.
The National Center is a CUNY labor-management research center that recognizes collective bargaining as a form of workplace democracy, which can advance higher education. We conduct research, publish studies, and convene an annual conference with faculty and administrators.
Over the past year, we have been researching in our archives about our history and programming including conference proceedings since 1973. The research shows that higher education fiscal crises, austerity measures, and the need for greater public support for higher education run throughout our 50-year history.
Underfunding has led to faculty positions being restructured, with contingent faculty today accounting for over 75% of faculty. Nationwide, most instructors lack job security, and many are denied a livable wage. It is, therefore, not a surprise that our research has found that in the seven years before the pandemic there were over a 100 new faculty bargaining units formed, representing 36,000 employees, most of whom are contingent faculty. Similarly, there has been a post-pandemic strike wave in higher education.
Regressive funding has also adversely impacted students. An explosion in student debt and increased tuition have replaced progressive taxation. It has led to college becoming unaffordable, campus salaries being insufficient, and facilities deteriorating. Those conditions have led more graduate assistants and student employees to seek representation. Our research shows that in 2022 and 2023 the number of represented graduate assistants has increased by over 22,000.
Budgets reflect values and goals. Higher education needs a new deal to ensure enriched quality education. Collective bargaining can provide a roadmap toward that new deal.
The post William Herbert, Hunter College – 50 Years of Higher Education Collective Bargaining appeared first on The Academic Minute.