Academic Minute Podcast
Sabine von Mering, Brandeis University – Antisemitism and Social Media Algorithms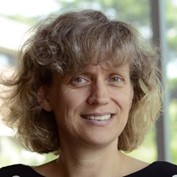 Do social media algorithms hurt or help society?
Sabine von Mering, professor of German and Women's, Gender, and Sexuality Studies at Brandeis University, discusses one reason they may need some tweaking.
Sabine von Mering, Ph.D. is Professor of German and Women's, Gender, and Sexuality Studies and Director of the Center for German and European Studies (CGES) at Brandeis University. She holds a Ph.D. in German Studies from the University of California, Davis and has co-edited a number of books, including Antisemitism on Social Media (Routledge, 2022) and Right-Wing Radicalism Today: Perspectives from Europe and the US (Routledge, 2013). She is also a climate activist with 350Mass.
Antisemitism and Social Media Algorithms

Antisemitic incidents have shown a sharp rise in the United States and in Europe over the past few years. We found that social media are at least partly to blame due to the platform's technology and business model: Algorithms on Facebook, Twitter, TikTok and YouTube are programmed to register engagement. The more engagement a post receives, the more users see it. The problem is that reactions to posts also reward users with dopamine hits, and because outrageous content creates the most engagement, users feel encouraged to post hateful content. Even social media users who post critical comments on hateful content often don't realize that because of the way the algorithms work, they end up contributing to spreading hate. That's how the algorithms contribute to spreading antisemitism in many different forms, such as GIFs, memes, vlogs, comments, and even simple reactions such as likes and dislikes.
To combat antisemitism on social media effectively, strategies need to be evidence based. But neither social media companies nor researchers have devoted enough time and resources to this issue so far. Civil society organizations have been demanding action for some time, and social media companies have implemented guidelines on reporting antisemitism on social media.
But the truth is: to meaningfully address antisemitic hate speech, social media companies would need to change the algorithms that collect and curate user data for advertisement companies, which make up a large part of their revenue.
It will require the collective efforts of social media companies, researchers, and civil society to combat this problem
The post Sabine von Mering, Brandeis University – Antisemitism and Social Media Algorithms appeared first on The Academic Minute.