Academic Minute Podcast
Minnita Daniel-Cox, University of Dayton – Paul Laurence Dunbar's Artist Legacy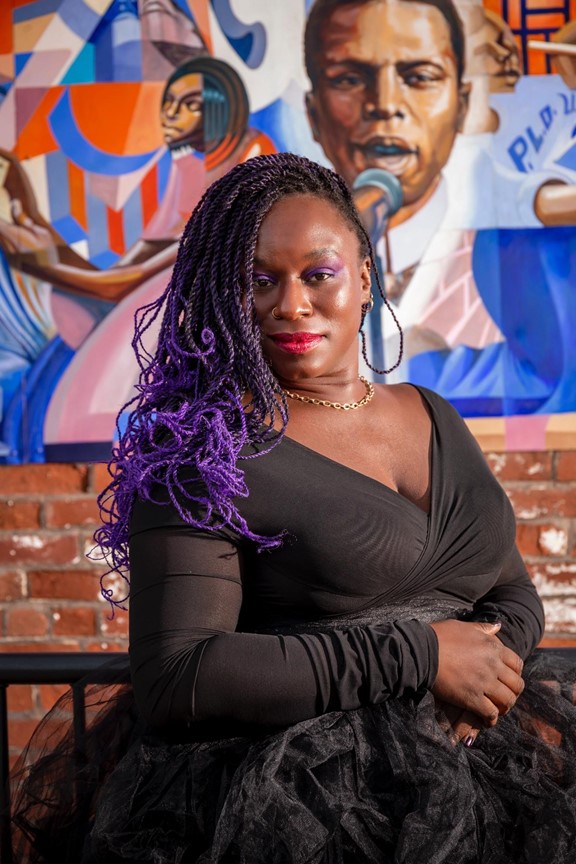 On University of Dayton Week: Who influenced your heroes?
Minnita Daniel-Cox, associate professor of music, looks into one such person.
Dr. Minnita Daniel-Cox attended Bowling Green State University, where she received a Bachelor of Music in Music Performance, and the University of Michigan, where she earned both her Master of Music and her Doctorate of Musical Arts degrees.
In 2014 Dr. Daniel-Cox established the Dunbar Music Archive and has presented her research for the National Association of Teachers of Singing, the National Opera Association, College Music Society, Society for American Music, National Association for Music Education, International Society for Music Education , Song Collaborators Consortia, Ohio Music Education Association, and the International Association of Sound and Audiovisual Archives. She has performed Dunbar Archive repertoire recitals in venues across the United States including the University of Michigan, Bowling Green State University, University of Puget Sound, Ohio Northern University, Central Michigan University, Detroit Musicians Association, Taylor University, and Hanover University with a recital tour in Stara Zagora, Haskovo, and Plovdiv, Bulgaria. Dr. Daniel-Cox has received over 350k in funding for her Dunbar work, including two National Endowment for the Humanities grants and a Mellon Foundation grant for the Dunbar Project.
Dr. Daniel-Cox is an active member of the African American Art Song Alliance, National Association of Negro Musicians, National Association of Teachers of Singing, and is an alumna of the NATS Intern Program. She serves on the board of the NOA and is Co-Chair of the Inclusivity, Diversity, Equity, and Access (IDEA) Initiative for the National Opera Association.
Dr. Daniel-Cox regularly appears with the Dayton Philharmonic Orchestra, the Springfield Symphony Orchestra, the Miami Valley Symphony Orchestra, and the Bach Society of Dayton. Recently, she has performed the roles of Anna Gomez in Menotti's The Consul and Sister Rose in Dead Man Walking with Dayton Opera. She is regularly featured in broadcasts with for WDPR Discover Classical.
She is currently Associate Professor of Voice and Coordinator of the Voice Area at the University of Dayton, where she teaches applied lessons and music courses, serves as Artistic Director of the yearly musical/opera productions, coordinates the Dayton Opera Apprentice Program, and coordinates the Vocal Performance Institute, a summer program for high school-aged singers.
Paul Laurence Dunbar's Artist Legacy

"I Know Why the Caged Bird Sings."
The popular phrase, and well-known title of Maya Angelou's autobiography, are the words of Paul Laurence Dunbar and the final line of his 1899 poem, Sympathy.
Simply put, he is your favorite poet's favorite poet.
This Dayton, Ohio native was the first Black poet to gain national prominence. He wrote 12 books of poetry in dialect as well as standard English. Dunbar also penned short stories, plays, libretti, song lyrics, essays, and novels during his 33 years.
Even today, there would be no "Hamilton" if we did not first have Dunbar. He gave us some of the first examples of contemporary musical theater in his collaborations with Will Marion Cook. He also collaborated with Afro-British composer Samuel Coleridge Taylor on the operetta "Dream Lovers", specifically composed for Black singers. Not only a Metastasio, his tumultuous life has made him a Metastasian hero, and he is the subject matter of several operas including those by Adolphus Hailstork, Richard Thompson, Steven Allen, and Jeff Arwady.
The litany of composers who set his texts include Florence Price, William Grant Still, Robert Owens, Zenobia Powell Perry, William Bolcom and Carrie Jacobs Bond. The Dunbar Music Archive is a resource for information regarding musical settings of his texts, streaming audio, and a dialect glossary.
Dunbar's legacy is important because he is a part of the first generations of free-born Black Americans. The Pan African values of his era influenced his world view and his contributions were seminal in establishing the Harlem Renaissance and were a part of the New Negro Movement. Dunbar used the tropes and stock characters of the plantation tradition to deliver critical social commentary and his work heavily influenced Langston Hughes and others.
150 years after his birth, Dunbar is so integral to US American culture, so ingrained in the fabric of our society, we don't even always realize it's him.
The post Minnita Daniel-Cox, University of Dayton – Paul Laurence Dunbar's Artist Legacy appeared first on The Academic Minute.