Academic Minute Podcast
Bryan Bardine, University of Dayton – Metal Scenes Around the World Survive and Thrive in the Face of Challenges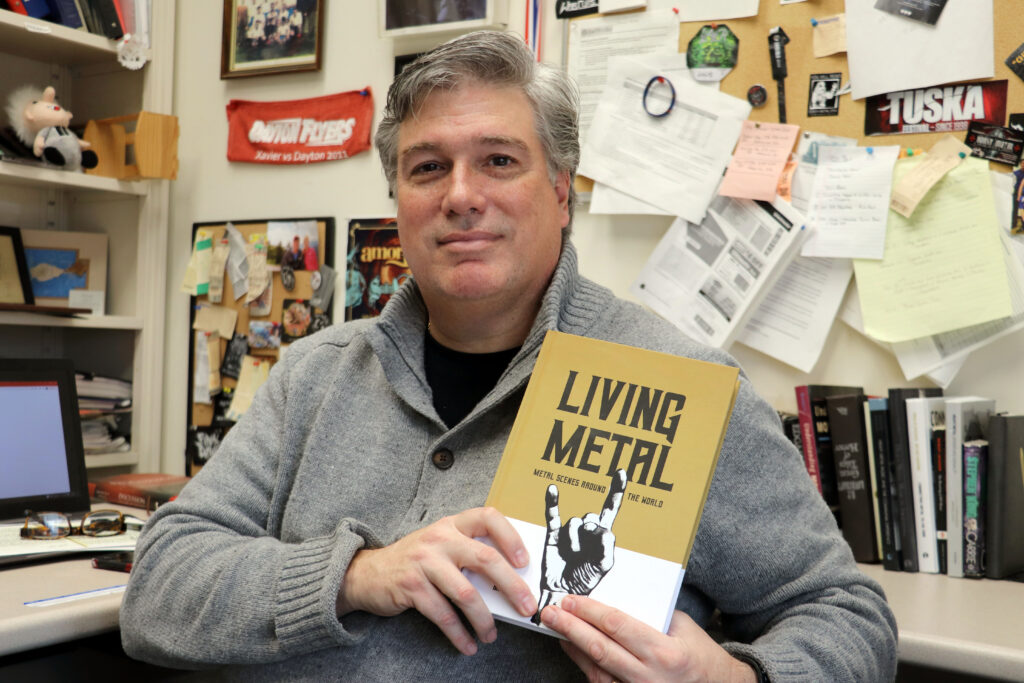 We've learned the power of groups after spending time alone during the pandemic.
Bryan Bardine, professor of English at the University of Dayton, explores how one scene sticks together.
Bryan Bardine, English professor at the University of Dayton, teaches courses on metal music and culture. He has co-edited three collections on metal: Heavy Metal Studies and Popular Culture (2016), Connecting Metal to Culture: Unity in Disparity (2017), and his most recent collection with Jerome Stueart, Living Metal: Metal Scenes around the World (2022). Living Metal looks at 13 scenes around the world, from as large as Berlin or the country of Turkey, or as small as Dayton, Ohio, or Tasmania. Each chapter examines the scenes, looking at such things as what aspects are working, what scenes say about the city or country where it exists, what the strengths and weaknesses are, what roles it plays in local communities, how they are perceived by outsiders, etc. The book's aim is to expose readers, be they fans of metal music or just fans of music in general, to the variety of metal scenes around the world. At least one chapter appears from every continent, except Antarctica, though metal scenes may exist there as well.
Bardine is working on a book series with Nelson Varas-Diaz and Niall Scott called On Extremity: Sounds, Images, Words, and Experiences. He is a member of the International Society for Metal Music Studies, currently in his second term as chair. Bardine organized the Metal and Cultural Impact conference, and co-hosts with Chris Burnside a podcast called Metal University.
Metal Scenes Around the World Survive and Thrive in the Face of Challenges

Metal music has been around for more than 50 years since Black Sabbath's self-titled debut album was released February 13, 1970.
Since then, metal has expanded to nearly every country on Earth. Still, in many places, fans of the music and culture are routinely criticized and, in some cases, shunned.
That is where heavy metal scenes come in. Scenes become homes for fans; they are places to gather to watch local, regional, and national acts; to enjoy the company of like-minded people; and to share knowledge and experiences about metal.
Studying local scenes — the people and places, and the music — shows that scenes survive and thrive despite myriad issues affecting them.
Issues like political persecution brought on by the racist, authoritarian government during apartheid in Gauteng, South Africa. Economic hardship that has restricted the community in Hull, in the United Kingdom. An aging fanbase in Dayton, Ohio.
The scenes that continue have "feeders" — something that keeps injecting new life.
A local recording studio that allows bands to sell their music locally and internationally, and gives fans another place beside a bar or concert venue to meet and share their interests. A big festival, where local bands can play alongside big names. A school or program, like in Osaka, Japan, which gives a place for older musicians to mentor younger ones.
No matter the geography or the challenges, it takes not only fans, but enterprising individuals seeing a need and creating supportive structures, to keep a scene strong.
For metal music to remain viable throughout the world, it needs strong metal scenes with dedicated people who are working to keep the music and culture alive.
These scenes — big and small — are the best way to bring people together. They serve communities and can keep metalheads and their music together.
The post Bryan Bardine, University of Dayton – Metal Scenes Around the World Survive and Thrive in the Face of Challenges appeared first on The Academic Minute.