Academic Minute Podcast
Olivia Holmes, Binghamton University – Is an Embryo A Person? The Medieval Tripartite Process of Ensoulment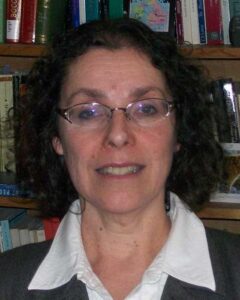 The abortion rights debate will go into the future, but it started long ago.
Olivia Holmes, professor of medieval studies and English at Binghamton University, looks into the history.
Olivia Holmes is Professor of Medieval Studies and English, and Director of the Center for Medieval & Renaissance Studies, at Binghamton University, as well as editor-in-chief of the journal Mediaevalia. She has previously published two monographs: Assembling the Lyric Self: Authorship from Troubadour Song to Italian Poetry Book (University of Minnesota Press, 2000), and Dante's Two Beloveds: Ethics and Erotics in the "Divine Comedy" (Yale University Press, 2008). Her new book Boccaccio and Exemplary Literature: Ethics and Mischief in the "Decameron," is forthcoming later this year from Cambridge University Press.
Is an Embryo A Person? The Medieval Tripartite Process of Ensoulment

The debate over abortion rights has ancient roots. The Supreme Court's decision in the case of Dobbs v. Jackson, which overruled the right to abortion before fetal viability, is grounded in the religious doctrine that "life begins at conception," the belief that God provides an immortal human soul—which differs substantially from the vital functions animating a plant or animal—at a specific point in prenatal development. The dogma that "ensoulment" coincides with the fertilization of the egg by the sperm was adopted by the Catholic Church only starting in 1869.
Previous views generally accepted 40 days as the point at which human personhood began, and abortion—which was widespread in pre-modern Europe and early America—was not criminalized before then. The grounds for attributing personhood to the fetus later in the pregnancy were largely based on religious reasoning. Medieval theologians described a tripartite process of ensoulment over the course of fetal development. One of the most cogent explanations of this concept is in the poet Dante's Purgatory. Dante sees the human individual as a union of body and spirit, in continuity with the natural world.
The character Statius, a saved soul on his way to Heaven, describes how the embryo is first endowed by Nature with a "vegetative soul," like that of a plant, which allows it to grow, after which it acquires a "sensitive soul," like that of an animal, which allows its organs to develop. It is only after the brain's formation that God breathes into the fetus a new, rational spirit that makes it capable of speech and humanity. Christian thought compared this moment with the one in Genesis 2:7 when the Lord breathes life into the man he formed out of dust from the ground. In supporting bans on abortion starting at conception, the Supreme Court is permitting states to legislate longstanding questions of belief.
The post Olivia Holmes, Binghamton University – Is an Embryo A Person? The Medieval Tripartite Process of Ensoulment appeared first on The Academic Minute.