Academic Minute Podcast
Christine Dinh, University of Miami – Multicenter National Clinical Trial for Neurofibromatosis Type 2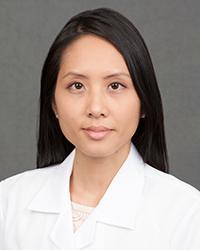 On University of Miami Miller School of Medicine Week: There are many afflictions we're still looking to cure.
Christine Dinh, associate professor of otolaryngology, otology, neurology and lateral skull base surgery, discusses one.
Dr. Christine Thuyvan Dinh, MD – Miami, FL – Neurotology – Book Appointment (umiamihealth.org).
Multicenter National Clinical Trial for Neurofibromatosis Type 2

Neurofibromatosis type 2, also known as NF2, is a devastating disease arising from a genetic mutation which can cause multiple types of tumors involving the brain, spine, and peripheral nerves, all of which can lead to hearing loss, ring or buzzing in the ears known as tinnitus, balance problems, and other neurological issues such as paralysis.
NF2 is caused by a faulty gene. In some cases it is passed down genetically and in some cases it appears spontaneously and it's unclear as to why this happens.
In order to better understand and treat this disease, a national multicenter, multispecialty clinical trial called INTUITT-NF2 is examining new medication options for treatment of four different types of tumors caused by NF2. New drugs that show promise in preclinical models will be added to the trial on an ongoing basis. This will allow us to expedite the availability of these treatments and bring new and novel therapies from bench to bedside.
In addition to this exploration of new medications, a select few institutions nationwide can also perform auditory brainstem implants on NF2 patients that uses signals to return sound for people without auditory nerve function. During this procedure – conducted by both otolaryngology and neurosurgery specialists – electrodes are surgically implanted on the brainstem. Patients wear an external processor that picks up sounds and converts them to electric signals that the patient perceives as sound and pitch.
Ultimately our hope is that these procedures, trials, and research will ultimately lead to more effective treatments for NF2 patients.
The post Christine Dinh, University of Miami – Multicenter National Clinical Trial for Neurofibromatosis Type 2 appeared first on The Academic Minute.