Academic Minute Podcast
Susan Smith, Rensselaer Polytechnic Institute – Informed Consent of University Student Athletes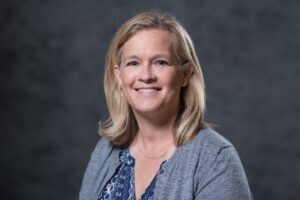 On Rensselaer Polytechnic Institute Week: Consent and privacy are leading societal issues.
Susan Smith, lecturer of Cognitive Science in the School of Humanities, Arts and Social Sciences, explores them in the context of sports.
Susan Smith is a philosopher who works in bioethics, research ethics, and the philosophy of race. Her current research explores the ethical issues related to genetic testing and, specifically, informed consent. She is part of an interdisciplinary study of the ethics of genetic testing and student-athletes in the NCAA.
Informed Consent of University Student Athletes

When Dale Lloyd II, a nineteen-year-old football player at Rice University died in 2006 from heat exhaustion linked to a genetic trait called sickle cell, the National Collegiate Athletic Association implemented a policy requiring all NCAA Division One athletes to be screened for the genetic condition in hopes of preventing similar deaths among other student-athletes who might not be aware they carry the gene. By 2015, screenings had expanded to include all college athletes, placing it among the largest mandatory genetic screening programs in the United States.
And while the debate continues over the need for such an extensive policy, my research shows that students often did not know they were being tested and therefore could not give informed consent.
The clinical practices surrounding the screening of student-athletes for sickle cell trait appear unacceptable in several ways: the NCAA and its member institutions are not always informing student-athletes of what is involved in so-called 'routine blood tests'. Also, student-athletes who learn that they are carriers of sickle cell trait may not understand the implications of that result because the NCAA and its member institutions do not routinely offer counseling.
Yet the test is not benign. It could have substantial negative outcomes including consequences for individual student-athletes when they seek employment or insurance.
Testing for sickle cell trait could be beneficial to student-athletes if they are aware, informed, and able to take action to prevent a sickle cell trait related condition, and the test could also be valuable to student-athletes in the future, when they may start a family, if they are aware of the result and its implications. But it is unclear that student-athletes are receiving such information or are given the tools to make use of it.
The post Susan Smith, Rensselaer Polytechnic Institute – Informed Consent of University Student Athletes appeared first on The Academic Minute.