Academic Minute Podcast
Jinglu Jiang, Binghamton University – Designing Better Human-A.I. Collaboration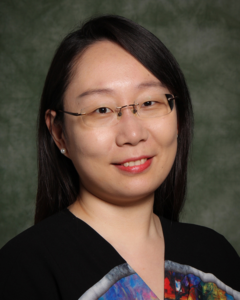 Designing better human and A.I. connections will be crucial in the future.
Jinglu Jiang, assistant research professor in the school of management at Binghamton University, explores how well we're working together.
Jinglu Jiang is an assistant professor of Management Information Systems at Binghamton University, School of Management. Her research focuses on emerging technologies, human-AI interactions, and information diffusion on digital platforms. She has published in various journals, including MIS Quarterly, MIT Sloan Management Review, Information Systems Frontiers, and International Journal of Human-Computer Studies.
Designing Better Human-A.I. Collaboration

Artificial Intelligence like Amazon's Alexa and Apple's Siri knows you well — but how well do you know them?
The ever-increasing ease with which individuals can access IT and the greater sophistication of the digital landscape for social interactions offer numerous opportunities for human-IT interaction, and impacts research.
It's no secret that technology influences human behaviors, and that intelligent agents like AI systems may learn from people's behaviors and adapt to situations, but what exactly happens during this exchange? My aim is to discover the mechanism behind this human-AI social exchange, and analyze the motivational factors that contribute to human-AI collaboration.
While AI's computing power and task performance are increasingly mature, human performance does not necessarily improve. By drawing on theories from the fields of sociology and psychology, my co-authors and I conduct research to understand how humans make decisions when AI leads the task. This allows us to further understand how, for example, people emotionally and psychologically respond to various AI-initiated actions and decisions in medical diagnosis. In one of our recent studies, we conducted an experiment to understand how three types of AI explainability designs influence patients' medical advice acceptance. By interpreting social mechanisms besides the technological design of the system itself, we hope to contribute to the better design of more efficient and effective human-AI collaboration systems.
While there are reasonable fears that AI will replace human workers throughout the economy, more research to understand how people digitize their lives and interact with intelligent agents should help us better understand emerging technologies' influences on individual performance, team effectiveness and organizational outcomes.
The post Jinglu Jiang, Binghamton University – Designing Better Human-A.I. Collaboration appeared first on The Academic Minute.