Academic Minute Podcast
Nasar U. Ahmed, Florida International University – COVID-19: When is it Safe to Reopen After a Pandemic Lockdown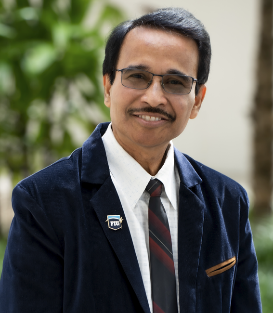 Information on when to reopen after a pandemic can be tricky.
Nasar U. Ahmed, associate professor of epidemiology at Florida International University, explores what the data says.
Dr. Nasar U Ahmed, founding chair, Department of Epidemiology & Biostatistics and an associate professor of epidemiology at the Robert Stempel College of Public Health & Social Work at Florida International University. Dr. Ahmed's background is in social epidemiology and intervention development. Currently, his research focuses on chronic disease, cancer epidemiology, health disparities, intervention development, and evaluation.
COVID-19: When is it Safe to Reopen After a Pandemic Lockdown

When is it safe for a country to reopen after a pandemic lockdown? Countries have been grappling with this question for the past two years.
To complicate matters, public health recommendations are not easily available. Recommendations are available about how to reopen, but there isn't much information on when to reopen.
We gathered a group of experts and researchers – from disciplines that included epidemiology, economics, engineering, and global health – to develop a data-driven tool to assist countries in making decisions about when to reopen.
The result was the Large Scale Reopening index, or LSR. Any country, province or large area can use this index, but we think it's particularly valuable for poverty-stricken regions, developing countries and other countries classified as "low resource."
Countries with strong economies generally have centralized health care systems and have important information at their fingertips that can help them decide if they should reopen – for example, the number of available hospital beds, or ICU statistics.
Resource-limited countries do not have these centralized systems nor do they have ways to access these data. That's where our LSR index comes in.
Countries only need two crucial data points to use it: daily COVID-19 infection rate and daily recovery rate.
When the daily infection rate and the daily recovery rate intersect – in other words, when they are equal – that's a crucial point in the process.
If the infection rate continues to fall, then countries may be able to safely reopen in about three weeks.
We have released an online toolkit to help public health officials across the world. They can plug in their data and get a response from on the spot.
It's simple and feasible –a data-driven decision-making process.
Read More:
[Nature] – A novel index-based decision support toolkit for safe reopening following a generalized lockdown in low and middle-income countries
The post Nasar U. Ahmed, Florida International University – COVID-19: When is it Safe to Reopen After a Pandemic Lockdown appeared first on The Academic Minute.