Academic Minute Podcast
Kenneth G. Furton, Florida International University – Canines Prove Accurate Detection Tools for COVID-19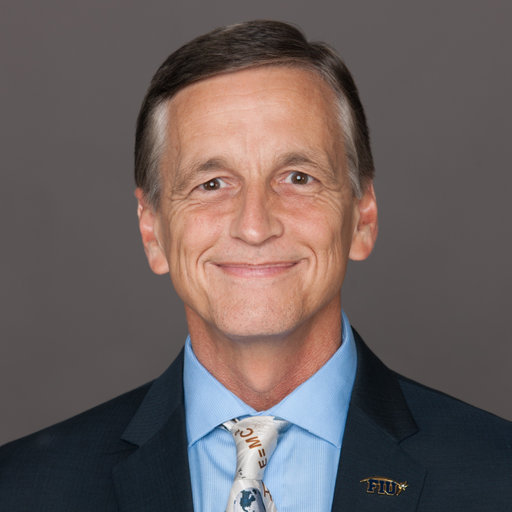 On Florida International University Week: Dogs might be proving their mettle in the fight against COVID-19.
Kenneth G. Furton, professor of chemistry and biochemistry, sniffs around to find out why.
Kenneth G. Furton is a leading scholar in forensic chemistry, specializing in scent detection. Dr. Furton joined Florida International University (FIU) in 1988 as an assistant professor in chemistry and founded FIU's International Forensic Research Institute (IFRI) in 1997, which is globally recognized as one of the premier research and teaching institutes on forensic science. He subsequently served as associate dean of budget, facilities and research and remains director emeritus at IFRI, where he continues to be active, directing the research of graduate and undergraduate students and publishing papers and filing patents.
He was appointed Provost and Executive Vice President of Florida International University in July 2014. He served as the dean of the College of Arts and Sciences from 2007 to 2014, where he transformed the university's largest college into three mission-based interdisciplinary schools to explore and address some of the biggest issues facing society today. In 2018, he founded the Global Forensic and Justice Center, a preeminent program encompassing forensic science and criminal justice research from across the University.
Dr. Furton earned a B.S. in Forensic Science at the University of Central Florida in 1983, a Ph.D. in Analytical Chemistry at Wayne State University in 1986 and completed post-doctoral studies in Nuclear Chemistry at the University of Wales, Swansea, and U.K in 1988. His expertise has led him to serve in numerous local, national and international professional organizations, including the National Academy of Sciences, the National Nuclear Security Administration and the Scientific Working Group on Dog and Orthogonal Detector Guidelines, which he chaired since its inception in 2004. He is currently chair of the Organization for Scientific Area Committees Dog and Sensor working group of the National Commission on Forensic Science.
Deeply committed to the academy, Dr. Furton is the author or co-author of more than 800 publications and presentations. His research projects have been continuously funded for more than two decades, totaling more than $13 million in external funding. He has shared his expertise in forensic science through hundreds of invited talks nationally and internationally and has testified as an expert witness in dozens of state and federal trials.
Canines Prove Accurate Detection Tools for COVID-19

Most scientists start by asking, "what if?" What if we could detect COVID-19 in a matter of seconds before boarding a plane or entering a classroom? In the start of the pandemic in 2020, my colleagues and I asked, "what if we trained dogs to detect the virus?" At that time, we knew the basics of the disease: it infected the respiratory tract, was easily spread, and caused metabolic changes in infected individuals. We also knew canines are the original biosensor with an innate, spectacular sense of smell, and they can be trained faster than we can create an instrument to detect a new odor.
We weren't starting from scratch – we had decades of experience in isolating unique odors and creating standards for training and handling of these detection dogs. Building upon previous research, we set out to determine if we could in fact train a dog to find COVID.
Working with a local hospital, we received masks from ill patients – those infected with the virus, and those who were sick but did not have the virus. We hypothesized we would be able to have at least *some* success with this new application. What we weren't expecting was an incredible average accuracy of over 97% accuracy on average. That's what you can expect from a PCR test, the gold-standard we've been using since March 2020.
It's one thing to get these results in controlled environments. It's another to get out into the real world and be able to replicate similar accuracy numbers. Working with big events like the South Beach Wine and Food Festival, Florida's second busiest passenger airport in Miami International Airport, and the first law enforcement agency to have certified COVID-19 detection dogs, our research is putting scientifically backed standards as another layered safeguard against the spread of COVID-19.
As the science points to this becoming endemic, maybe man's best friend can be our best line of defense against spreading variants of this virus and other infectious microbes.
Read More:
[ScienceDirect] – Preliminary accuracy of COVID-19 odor detection by canines and HS-SPME-GC-MS using exhaled breath samples
The post Kenneth G. Furton, Florida International University – Canines Prove Accurate Detection Tools for COVID-19 appeared first on The Academic Minute.