Academic Minute Podcast
Miriamne Krummel, University of Dayton – The Empire of Time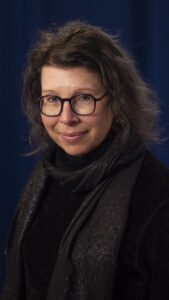 Do you have the time?
Miriamne Krummel, professor of English and medieval studies at the University of Dayton, examines the history of who we count time.
Miriamne Ara Krummel is a professor of English and medieval studies in the Department of English, University of Dayton. She holds a B.A. in English from University of Connecticut; an M.A. in English from Hunter College, CUNY; and a Ph.D. in English from Lehigh University. Her current research studies medieval temporality as expressed in Middle English, Hebrew, and Latin texts; Krummel is especially concerned with the relationship between Christian and Jewish time and the space afforded Jewish temporality in Latin Christendom. This research will be published in The Medieval Postcolonial Jew, In and Out of Time by University of Michigan Press. Her second book, co-edited with Tison Pugh, Jews in Medieval England: Teaching Representations of the Other (Palgrave Macmillan), features chapters that discuss the teaching of texts by and also about Jews; Krummel's first book, Crafting Jewishness in Medieval England: Legally Absent, Virtually Present (Palgrave Macmillan), examines the role performed by Jewishness in the making of an English medieval nation. Dr. Krummel has been published in the journals Exemplaria, Shofar, postmedieval, and TSLL, as well as edited volumes about medieval literature.
The Empire of Time

We have inherited our current time system from the Middle Ages: anno domini or A.D. time, "in the year of our Lord." In the fourth century, around the early 300s, Eusebius of Caesarea created tables of the ancient times—Greek, Egyptian, polytheistic, and Roman. At the end of this chronicle of time, only one table still stood: the Roman one. In A.D. 731, Bede used this dating system in his Ecclesiastical History of the English People. In the late twentieth century, A.D. time was recast as the "common era," but our re-branding only masks our inheritance from medieval A.D. temporality.
This thought came to mind one day while reading the work of three different medieval historians. Those are the Venerable Bede's applauding the conversion of pagan peoples to Christianity in A.D. 627; Mathew Paris's libelous story about a Jewish wedding in Lincoln in A.D. 1255; and Solomon bar Simson's chronicle of Jewish suicide during the First Crusade in A.D. 1096.
Pressing further into medieval manuscripts, a theme emerged: religious and cultural difference were disappearing while nations and empires formed. Polytheistic customs, agricultural time, and the zodiac resurfaced less and less. Overall, A.D. temporality sought to make everyone and everything conform to one time: anno domini.
But Jewish time held out against the colonization of Latin Christendom. For resisting, medieval Jews suffered and were expelled from one medieval country after another, starting with England in 1290. And this story of temporal hegemony takes us to 2022.
Read More:
[The Conversation] – How common is the 'Common Era?' How A.D. and C.E. took over counting years
[The British Library] – Cotton Julius A VI
The post Miriamne Krummel, University of Dayton – The Empire of Time appeared first on The Academic Minute.