Academic Minute Podcast
Jessica Cox, Franklin & Marshall College – Online English Classes for Adults During and Beyond the COVID-19 Pandemic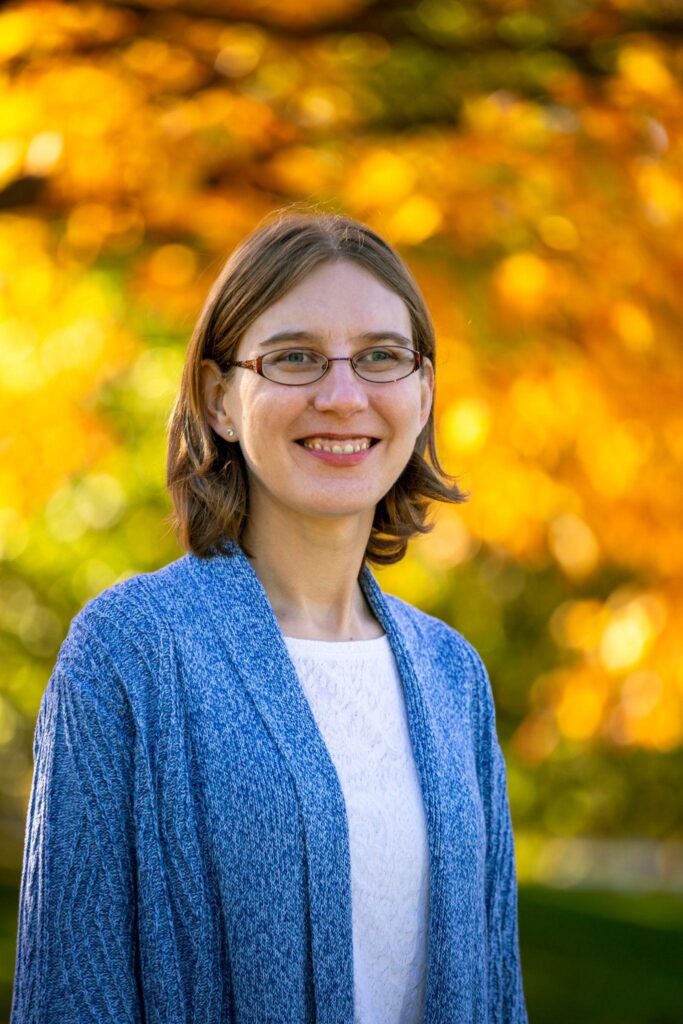 On Franklin and Marshall College Week: Online classes can be a boon to those trying to learn a new language.
Jessica Cox, associate professor of Spanish and linguistics, discusses the barriers some have to logging in virtually.
Jessica Cox researches relationships between language and cognition in multilinguals, including older adult language learners, aptitude for learning new languages, and how bilingual experiences affect other areas of cognition. She holds a PhD in Spanish Linguistics from Georgetown University and a BA in World Languages with a Concentration in Spanish from Gettysburg College.
Online English Classes for Adults During and Beyond the COVID-19 Pandemic

Previous research shows that higher proficiency in the dominant language of an area, like English in the United States, is related to better healthcare and employment outcomes. Also, while many activities increasingly happen online, the internet is less accessible to under-resourced groups, like people with lower incomes. Because of the potential effects of this disparity during the COVID-19 pandemic, we asked multilingual adults their preferences for, and potential barriers to, participating in online English classes.
Translators and interpreters made our survey available in 11 languages in addition to English. Sixty-one adults in Lancaster County who reported 16 different first languages and English proficiency ranging from "functionally none" to "intermediate" took the survey between September 2020 and June 2021.
Participants most preferred using a smartphone app on their own, completing exercises on paper, and classes on how to use different technologies. Videoconferencing was less preferred, although still of interest. Time and reliable access to internet connections and devices were the most frequently reported barriers to taking an online class, which may be why many participants preferred individual work and less technologically demanding modes of instruction. 15% of respondents didn't expect any barriers to taking an online class and about two-thirds were interested in online class after the pandemic ends.
Overall, teaching digital literacies in English classes for adults may be productive, if students have reliable internet connections and devices. Online class may lower obstacles to attending in person, like transportation, and thus may increase opportunities for participation, which in turn may have additional positive impacts on the well-being of multilingual adults and their communities.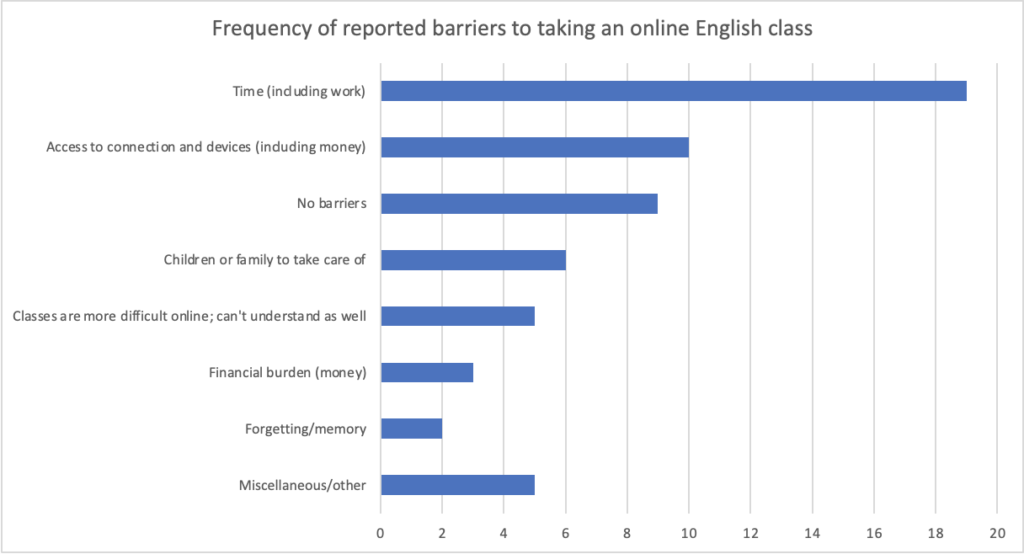 ACKNOWLEDGMENTS
This project is funded by United Way of Lancaster and F&M's Center for Sustained Engagement with Lancaster (CSEwL is funded by a generous grant awarded to F&M College by the Endeavor Foundation).
This report is part of a larger project in collaboration with Drs. Emily Marshall, Jennifer Meyer, Harriet Okatch, and Wei-Ting Yen. We also express our gratitude to our research consultants, Amer Al Fayadh and Bruno Daniel Gonzalez Cervera, for recruiting participants and facilitating phone interviews with multilingual respondents, and to Berwood Yost and Franklin and Marshall College's Center for Opinion Research for facilitating the representative sample.
Finally, we are grateful for all the research participants who completed the survey; we appreciate them sharing their time and experiences with us.
The post Jessica Cox, Franklin & Marshall College – Online English Classes for Adults During and Beyond the COVID-19 Pandemic appeared first on The Academic Minute.