Academic Minute Podcast
Peter F. Cannavo, Hamilton College – Climate Migration: Facing the Inevitable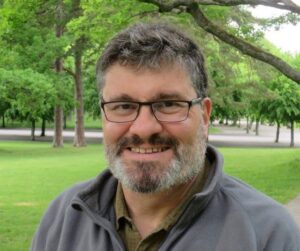 Many stand to lose their homes and towns in the face of impending climate change.
Peter F. Cannavo, professor and chair of government at Hamilton College, determines best practices going forward.
Peter F. Cannavò works and teaches in the areas of political theory; environmental theory and politics; climate politics; and geography and the politics of place. Cannavò is the author of The Working Landscape: Founding, Preservation, and the Politics of Place (2007). He contributed to the volumes Liberty and the Ecological Crisis, The Bloomsbury Companion to Hannah Arendt, The Handbook on U.S. Environmental Policy, The Oxford Handbook of Environmental Political Theory, The Encyclopedia of Political Theory, The Environmental Politics of Sacrifice, and Political Theory and Global Climate Change. He is co-editor (with Joseph H. Lane, Jr.) of Engaging Nature: Environmentalism, Concepts of Nature, and the Study of the Political Theory Canon (2014). He is currently writing To the Thousandth Generation: The Green Civic Republican Tradition in America, under contract with The MIT Press. Cannavò has published in various peer-reviewed journals, including Environmental Politics, Environmental Values, and Political Theory, and has also contributed opinion pieces to several media outlets, including The Hill, The Huffington Post and USA Today.
Climate Migration: Facing the Inevitable

As climate change makes more places uninhabitable, relocation, or climigration, becomes unavoidable. By 2100, some 13 million Americans may be displaced by sea level rise alone.
The U.S. is largely unprepared. There's no coordinated government framework to manage migration. Government policy favors rebuilding in place after disasters, and buyouts focus on moving individuals rather moving whole communities and keeping them together. We see relocation as surrender or failure.
The new federal infrastructure package provides some resources for relocation, including funding to move highways and drinking water infrastructure threatened by climate change and to assist relocation of Indigenous communities. But this is just a start. The U.S. needs a massive, comprehensive climigration effort, structured along several key guidelines.
First, relocation should be planned ahead, over a number of years, rather than be an emergency reaction .
Second, the impacted community must take a lead role in collectively and democratically planning relocation and choosing a new home. A migrating community should try to stay intact.
Third, climate migrants must have safe, affordable relocation sites and not be crowded out by climate gentrification.
Finally, climigration requires coordinated resources and institutional support at the federal, state, and local levels.
Once unthinkable, climigration is now unavoidable. We must ensure that it proceeds as effectively, equitably, democratically, and humanely as possible.
The post Peter F. Cannavo, Hamilton College – Climate Migration: Facing the Inevitable appeared first on The Academic Minute.