Academic Minute Podcast
Neel Shah, Harvard Medical School – Prenatal Care Visits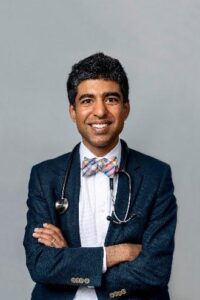 Quantity doesn't always mean quality when it comes to prenatal care.
Neel Shah, assistant professor of obstetrics, gynecology and reproductive biology at Harvard Medical School, explains how many visits are needed.
Dr. Neel Shah is the chief medical officer of Maven Clinic, the largest virtual clinic for women's and family health, an OB-GYN at Beth Israel Deaconess Medical Center, and an assistant professor of obstetrics, gynecology, and reproductive biology at Harvard Medical School.
He is a globally recognized expert in designing solutions that improve health care, and is listed among the "40 smartest people in health care" by the Becker's Hospital Review. Dr. Shah founded Costs of Care, an NGO that curates insights from clinicians and patients to help delivery systems provide better care. In 2017, he co-founded the March for Moms Association, a coalition of more than 20 leading organizations, to increase public and private investment in the wellbeing of mothers. Dr. Shah serves on the advisory board of the National Institutes of Health, Office of Women's Health Research.
.
Prenatal Care Visits

It should go without saying that prenatal care, or healthcare for pregnant people, is important. But our understanding of what makes for quality prenatal care has historically been limited to a single metric: how many times a person visits their doctor. Typically, the number of recommended visits is around 12 to 14 over the 9 months of pregnancy, a highly regimented model that has not meaningfully changed since it was introduced in the 1930s.
In a new study that I co-authored with my colleagues Rebecca Gourevitch, Tanya Natwick, Christine Chaisson, and Amber Weiseth, we sought to identify another measure: what actually happens when you make all those visits to your doctor.
We did this by first identifying 8 common procedures that are universally recommended by the American College of Obstetricians and Gynecologists and other guideline-issuing agencies. Those include getting tested for sexually transmitted infections; receiving the TDAP vaccine; and taking a glucose tolerance test, which is necessary to see if you have gestational diabetes.
What we found is this: Patients with at least four prenatal visits received, on average, 6 of the 8 guideline-based services. But for patients who made additional visits, guideline-based care did not increase. In other words, going to the doctor more did not lead to patients receiving more clinically backed care.
We also found notable variations depending on a patient's background. For instance, rates of TDAP vaccination were lower in counties with high proportions of minority residents, lower
education, and lower income.
In the wake of the pandemic, there has been increased attention on the prenatal care model — certainly more than at any point in my career. As we consider how best to adapt this model to the 21st century, it will be important to consider what 'quality' really means. It is clear from our study that facetime alone cannot be the sole measure of quality care for pregnant people.
The post Neel Shah, Harvard Medical School – Prenatal Care Visits appeared first on The Academic Minute.