Academic Minute Podcast
Lisa Bitel, University of Southern California Dornsife – The Real St. Nick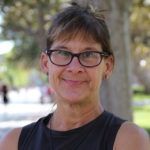 Who was the real St. Nick?
Lisa Bitel, professor of history and religion at the University of Southern California Dornsife, explores the saint's history.
Lisa Bitel is a professor of history and religion whose studies focus on the social, cultural and religious histories of medieval Europe. Her publications have focused on gender and religion in medieval Europe and religious visions in contemporary California.
The Real St. Nick

This is the time of year people share tales of Old St. Nick, but few know his real story and that he actually came from the Mediterranean coast.
Historical documents show that the man who became St. Nicholas was born around 260 C.E. in Myra, a town on the southwest coast of modern Turkey, then under control of the Roman Empire. Since Christianity was still illegal in the empire, Nicholas spent time in prison for his beliefs.
After Christianity became legal in 311, Nicholas became a Bishop and gained fame for defending victims of oppression, saving people from unjust execution, and even reviving the dead. Legends claim he continued to work miracles after his death on December 6, especially for children and for sailors in distress at sea.
Devout followers frequented his tomb, collecting holy water or oil that dripped from the tomb to keep in hopes of cures and miracles.
In the 11th century, some Italian sailors from Bari heard about the saints' remains and the powers associated with them. They invaded Nicholas's tomb and stole the saint's bones for their own protection. The town of Bari built a church for the saint's relics, which quickly became one of Europe's most popular pilgrimage destinations.
But what if it was all an 11th century scam to promote religious tourism?
In the 1950s, scientists examined the bones in the basilica, looking for evidence of authenticity, and were able to date the bones to the fourth century. However, Turkish archaeologists claim the raiders stole the wrong body and that a sarcophagus in Nicholas's original church in Turkey still hold the saints' remains.
No matter where his bones lie, though, sailors spread stories of St. Nick's miracles around the seas, inspiring the Santa Claus legend that continues to bring joy to people worldwide.
The post Lisa Bitel, University of Southern California Dornsife – The Real St. Nick appeared first on The Academic Minute.