Academic Minute Podcast
Carolyn Henne, Florida State University – Art and Science Collaboration with Oysters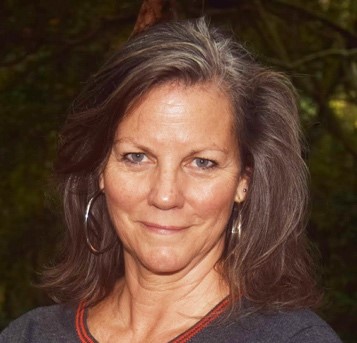 When art and science meet, good things can happen.
Carolyn Henne, professor in the department of art at Florida State University, discusses one such instance.
Carolyn Henne earned her BA in Fine Arts and Economics from the College of William and Mary in 1983. She worked as an Agricultural Economist until she left to study and work at Lacoste School of the Arts in France. Thereafter, she earned her MFA in Sculpture and Extended Media from Virginia Commonwealth University in 1990. She worked as a custom prop fabricator for film and television, taught adjunct for VCUarts in Richmond, Peru and Scotland while showing her work actively. She moved into academic administration in 2003 serving as Administrative Director then as Assistant Dean for VCUarts until 2010.
She currently lives in Tallahassee, Florida and works at FSU where she was Chair and Associate Dean in the College of Fine Arts until 2017. She is now the Graduate Program Director. She is also the co-Director of a collaborative project, Comma. Carolyn has had solo shows on a sandbar in Beaufort (NC) and in galleries in Nashville, Staunton (VA), Richmond (VA), Doha (Qatar) and the Bronx (NY). Her work has been shown at Art Works (FL), the Kuntoffice Gallery (Germany), and NIH's National Library of Medicine. Her work has been reviewed in Scupture, Art Papers, and Gulf Times (Doha, Qatar)
Art and Science Collaboration with Oysters

Sea Stars, my sculptural installation on a sandbar in Beaufort, NC, is a colorful and biodegradable set of sculptures that will transform into living oyster reefs and be viewable during low tide. The work is driven by the belief in the power of exchange between disciplines and the ability for artists' works to serve as vehicles for inspiration, change and action.
This new direction in artistic research and production stems from my participation as the FSU representative at Bridging Chasms, a symposium involving eight scholars from across the ACC. Each participant presented on elements and crucial details of their discipline. Dr. Niels Lindquist, a marine ecologist at UNC's Institute of Marine Sciences (IMS), was also a participant. He and his Commercial Fisherman partner, David Cessna, at the Sandbar Oyster Company have developed a uniquely successful substrate for attracting wild native oyster larvae. It had not occurred to Lindquist before Bridging Chasms that his materials research could be employed to make sculpture.
This fortunate encounter sparked our collaboration and affords me unique ways of making art capable of generating change and helping to heal the planet. I am using the opportunity to pivot to eco-conscious materials and proactively address environmental issues relative to food scarcity, climate change, water quality, and reduction of carbon dioxide in the atmosphere all the while providing habitat to a wide range of marine life and helping to preserve shorelines.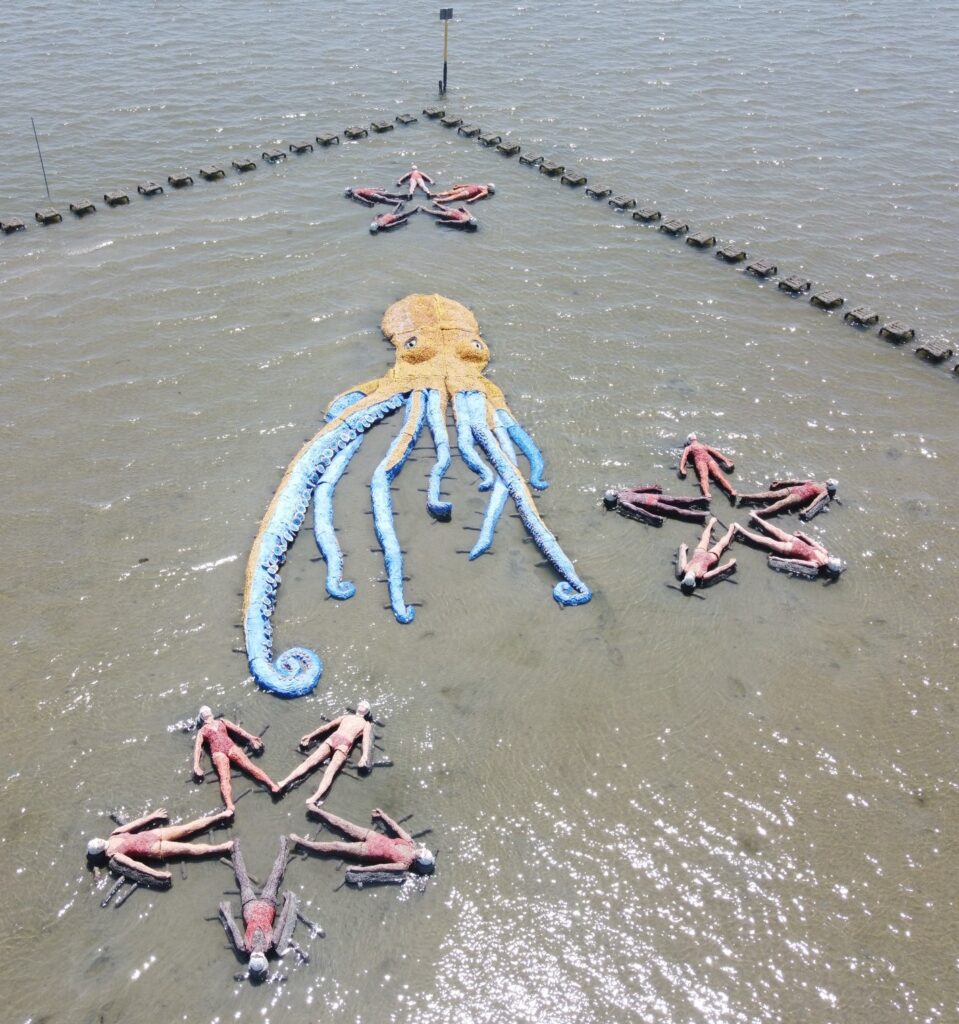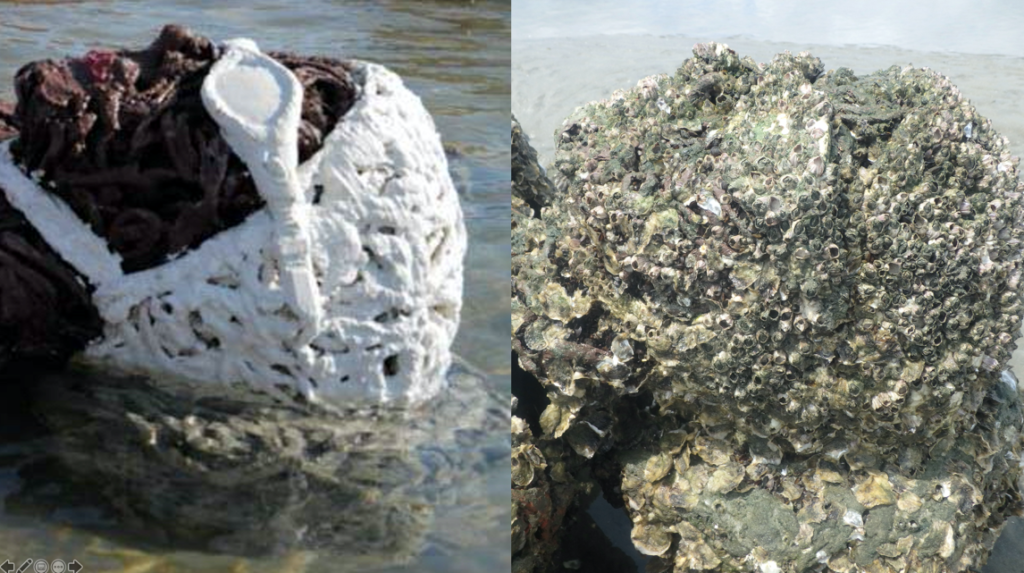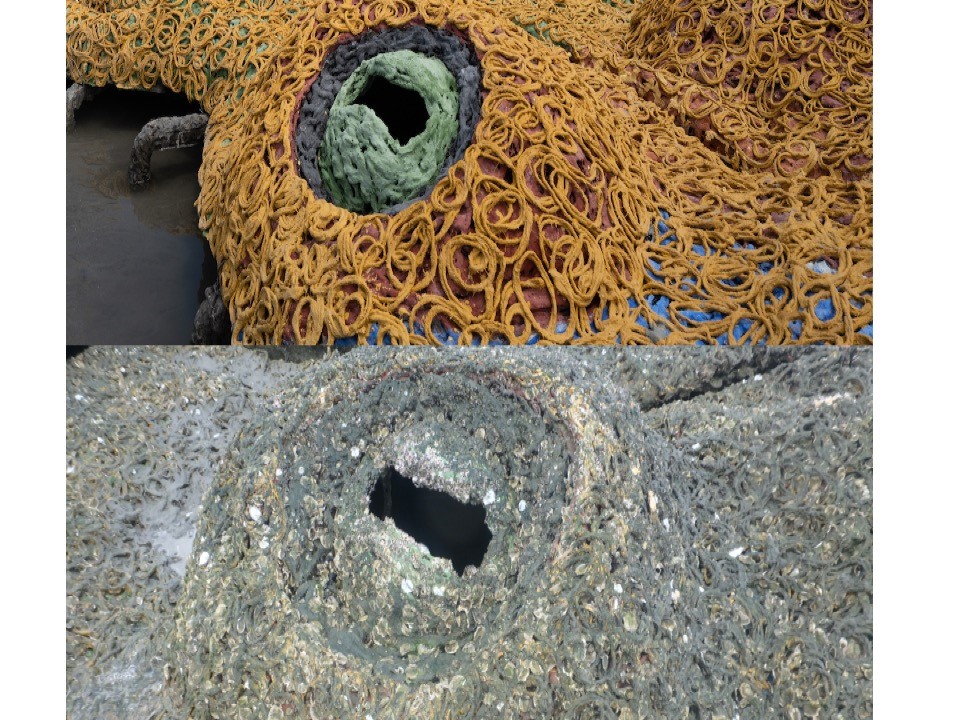 Read More:
[Florida State University News – FSU art professor installs sculpture to promote living shoreline creation and oyster habitat restoration
[Garden & Gun] – From Art to Oyster Reef
The post Carolyn Henne, Florida State University – Art and Science Collaboration with Oysters appeared first on The Academic Minute.