Academic Minute Podcast
Allison Weidhaas, Rider University – Red Zone: Sexual Assaults on College Campuses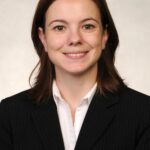 Transitions can be hard on college campuses.
Allison Weidhaas, associate professor and Director of Master in Communication Programs at Rider University, explains why the fall can be particularly hard for some.
Allison Weidhaas, PhD, is an associate professor and program director for the Communication master's programs at Rider University. Weidhaas studies gender and communication, including female business owners and gender-based violence. She has authored academic articles, book chapters, and a book on female business owners and is currently working on a book about women's sensemaking after drug-facilitated sexual assault. To learn more, you can visit www.icameforward.com.
Red Zone: Sexual Assaults on College Campuses

More than 50 percent of campus sexual assaults will occur between August and Thanksgiving, which is called the red zone, according to PAVE. The beginning of the academic year or the start of a new semester is a period of transition as students develop their peer network and reengage with campus life, and sadly also a heightened time for sexual assaults.
Many college campuses this fall will introduce bystander programs encouraging people to intervene if they see trouble and to watch out for their friends. These interventions can be direct, such as stepping in to stop someone from leading a friend away from a party, or indirect, by getting help from an authority figure.
According to RAINN, the Rape, Assault, Incest National Network, 18-24-year-old women are four times as likely to be the victims of sexual violence, and a mere 20 percent will report it. While a larger percentage of sexual violence is directed at women, RAINN indicates one in 33 men will experience an assault. These statistics are disturbing and worse yet, it's hard to account for the many people who choose never to report. My research with female victims of sexual assault reveals women experience long-lasting effects and healing is neither a linear process or the same for everyone. Some find solace in therapy, through movement, including workouts and yoga, and advocacy work, which enables them to communicate about what occurred and regain power in the process, but the journey of who to disclose to and when is different for everyone. One of the most powerful things you can do for a survivor is just listen without judgement.
My research underscores the importance of communication as a means of advocacy and healing.
The post Allison Weidhaas, Rider University – Red Zone: Sexual Assaults on College Campuses appeared first on The Academic Minute.