Academic Minute Podcast
Amy Lueck, Santa Clara University – English Professors Study More Than Books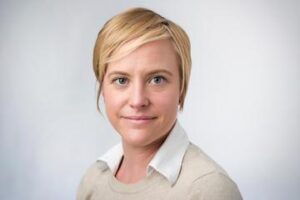 English professors don't always have their nose in a book.
Amy Lueck, associate professor of rhetoric and composition at Santa Clara University, explains.
Amy J. Lueck is Associate Professor of English at Santa Clara University, where her research and teaching focus on histories of rhetorical instruction and practice, women's rhetorics, feminist historiography, and digital public memory. Her book, A Shared History: Writing in the High School, College, and University, 1856-1886 (SIU Press 2020), brings together several of these research threads, interrogating the ostensible high school-college divide and the role it has played in shaping writing instruction in the U.S. Her more recent research attends increasingly to the rhetorics and politics of space, including virtual space, in history and remembrance.
English Professors Study More Than Books

People are often surprised to hear that, as an English professor, I don't study literature. Instead, I study a range of everyday texts and genres. Even more specifically (and perhaps surprisingly), I study places–the ways they are experienced and lived, represented discursively, and remembered.
This hasn't always been what I do; my first book was on rhetorical education in the nineteenth century and the relationship between high schools and colleges then and into the present. But I realized later that that book was also always about a place: it was about the site of the school, how it is itself conceptualized, experienced, and remembered.
My research now is focused on other sites of rhetoric and remembrance, including San Jose's famous Winchester Mystery House and my own university's campus, which is also the ancient Native Ohlone village site of Thamien. In both cases, I examine the ways the sites have been discursively and materially constructed as sites of history that subtly (and not-so-subtly) exclude and marginalize some populations. I ask: how do signs celebrating the Spanish mission on our campus also serve to erase the Native history of the village of Thamien, and perpetuate the ongoing erasure of BIPOC experiences in our classrooms today? How might an emphasis on mystery—on haunting and ghosts and the supposed insanity of a woman like Sarah Winchester—serve to undermine counterstories of women's historical agency, and their ongoing struggles for equal representation in the US?
Academic research can help us to see everyday sites through different lenses. Rhetorical work like mine can also show how studying a subject like "English" entails attention to a much more diverse array of research topics and texts than just the "Literary Greats." The whole world is a text, and rhetoric and public memory research helps remind us that all of us play a role in writing it.
Read More:
[Southern Illinois University Press] – A Shared History
Official Website of the Muwekma Ohlone Tribe of the San Francisco Bay Area
Virtual Walking Tour
Winchester Mystery House
The post Amy Lueck, Santa Clara University – English Professors Study More Than Books appeared first on The Academic Minute.