Webinars
Truth, Racial Healing & Transformation (TRHT) Campus Centers: Preparing the Next Generation of Leaders to Confront Racism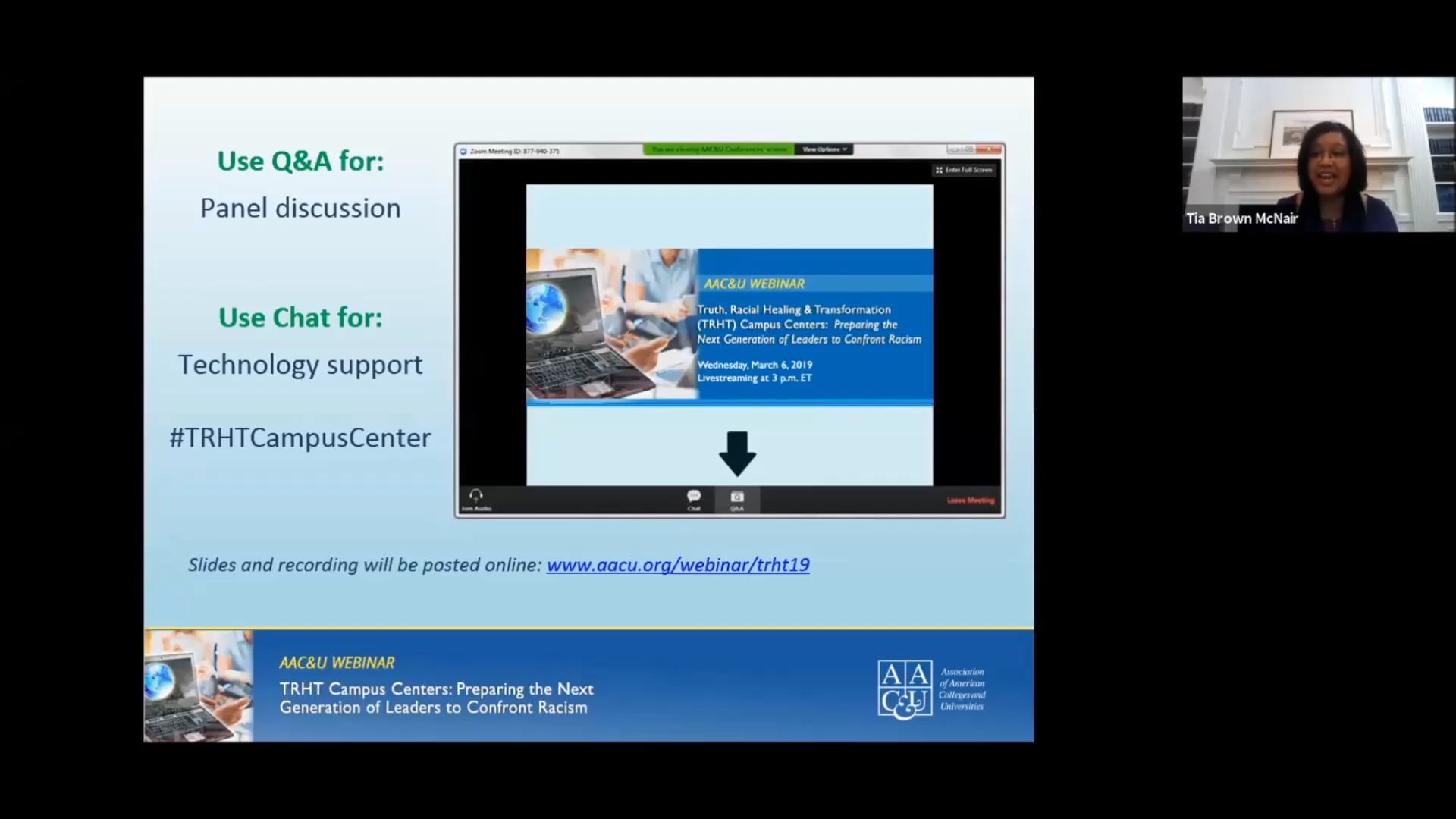 An increasing aversion to difference and the growing number of racial incidents have left colleges and universities with the challenge of how to affect change and to heal from the legacies and harms of racism. This webinar will discuss the efforts of the first ten Truth, Racial Healing & Transformation (TRHT) Campus Centers in addressing the historical and contemporary effects of racism to bring about transformative and sustainable change for our students, in our communities, and across our country.
Representatives from the TRHT Campus Centers at Austin Community College, Hamline University, Rutgers University–Newark, and the University of Hawaiʻi at Mānoa will share how they are implementing specific strategies to achieve the goals of the TRHT effort on their campuses and in their local communities through authentic partnerships, understanding the narrative on race at their respective campuses, racial healing circles, and professional development.
AAC&U is hosting the second TRHT Campus Centers Summer Institute at Villanova University from June 25 to 28 for campus teams interested in learning about the TRHT Framework and the process for hosting a TRHT Campus Center. The deadline for teams to apply for the institute is March 14, 2019.
AAC&U's goal is to partner with at least 150 higher education institutions to host TRHT Campus Centers that seek to prepare the next generation of strategic leaders and thinkers to dismantle the belief in the hierarchy of human value that has fueled systemic and structural racism. We cannot ignore our history. We must learn from it to transform our future.
There will be time for Q&A during the webinar, and we encourage participants to send questions in advance to [email protected]. The webinar will be recorded, and the recording will be available online 72 hours after the webinar.
Digital Access
$0

(AAC&U Members);

$200

(Nonmembers)
---
Moderator
Vice President for Diversity, Equity, and Student Success and Executive Director for the TRHT Campus Centers
---