Webinars
Engaging All Students in Global Learning—From High-Impact Practices to High-Impact Graduates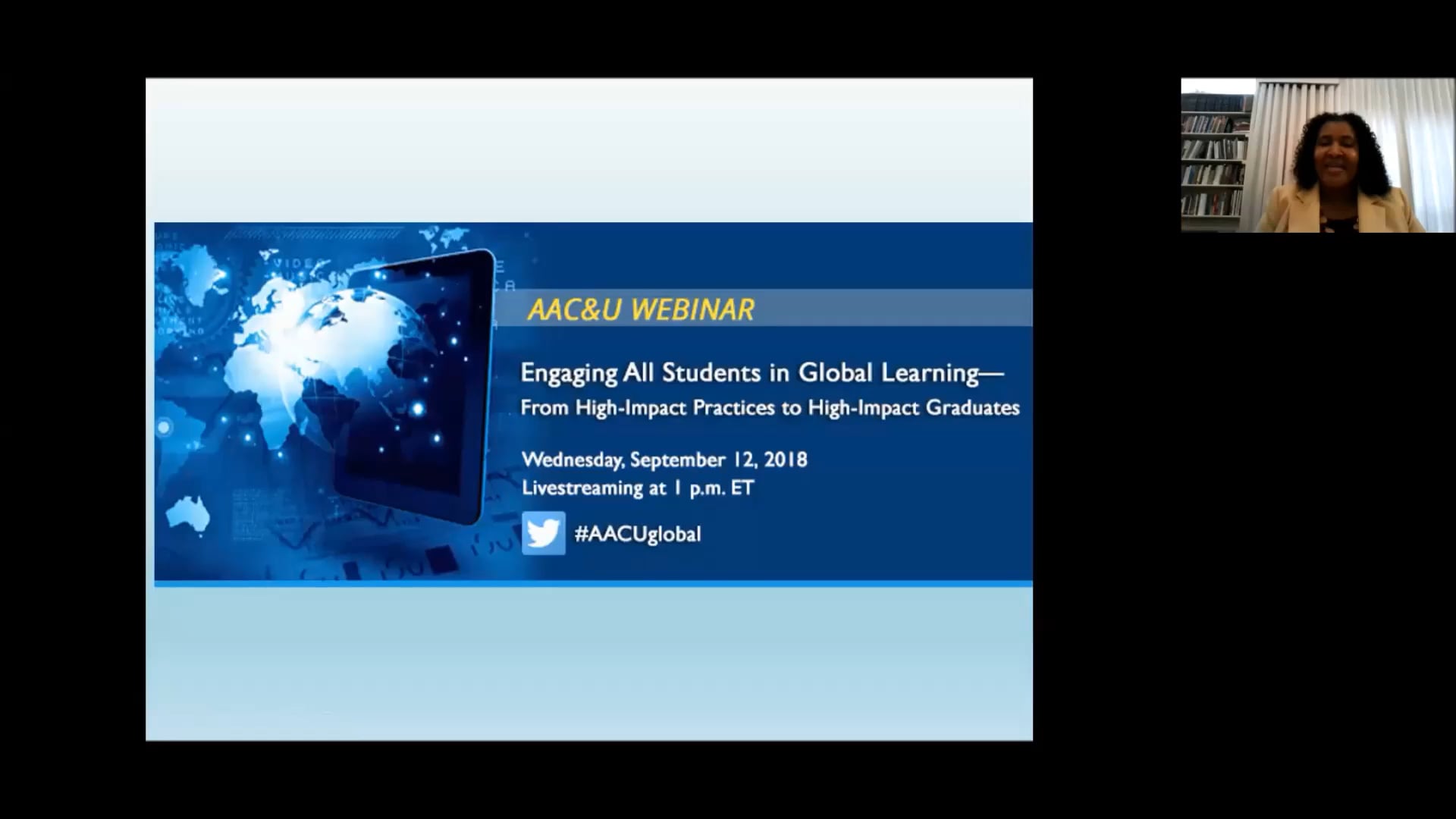 AAC&U is pleased to announce the latest webinar in a series that highlights the work being done at colleges and universities around the country to address challenges and identify best practices for enhancing the teaching and learning experience and demonstrating the value of liberal education for work, life, and global citizenship.
In recent years, scholars have made a compelling case for undergraduate global learning at the local, regional, and national levels. As the US economy continues to be connected to the global market, the majority of higher education institutions have integrated global perspectives into their mission statements, and policymakers have pushed higher education to connect student learning to our increasingly global workforce. To ensure that all students have an opportunity to engage with global perspectives and apply these skills, institutions are increasingly seeking ways to integrate global learning across the curriculum and cocurriculum. This webinar brings together a panel of global learning leaders to provide strategies and practices that afford global learning experiences for all students across disciplinary, on- and off-campus, and curricular and cocurricular lines.
Panelists will provide concrete strategies for meaningful student global learning experiences that are also measurable and connected to life, work, citizenship, and multiple majors and disciplines. In addition, they will offer specific models and activities that can be implemented at a variety of institutions for diverse student groups with differing levels of global experience and engagement. Participants will leave the webinar with examples of global learning assignment design, implementation, and strategic ideas.
There will be time for Q&A during the webinar, and we encourage participants to send questions in advance to [email protected].
Digital Access
$0

(AAC&U Members);

$100

(Nonmembers)
---
Moderator
Vice President, Office of Global Citizenship for Campus, Community, and Careers
---
Presenters
Associate Dean for Engagement & General Education; Division of Undergraduate Studies Associate Professor; Department of Engineering and Science Education, Clemson University